Three-year-old Ollie (now four) was diagnosed with acute lymphoblastic leukaemia in July 2017, after his mum, Donna noticed him struggling to walk. After seven weeks of trips to the GP, including one where she was told Oliver was just 'a badly behaved boy', Donna was told he had blood cancer, and that he faced more than three years of treatment. "We were devastated" said Donna, whose third child, Lily, was only six months old when Oliver was diagnosed. "Oliver was so poorly, he had to stay in hospital on Christmas Day. We thought we were
going to lose him. Not only was Oliver so poorly, but we were struggling financially. We were travelling back and forth to hospital several times a week, and that meant lots of trips to the petrol station, parking and expensive hospital meals.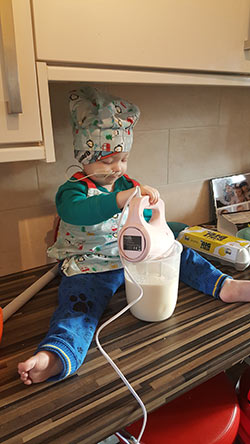 Oliver was always destined to make a great Little Kitchen taste tester...
"One of the hardest things about it has been the impact on family life. My oldest son AJ is seven, but he doesn't understand. When he was poorly with a bug, he would want his mummy but I couldn't be with him. And that was so upsetting. He would go into school not knowing who was picking him up. And my mum has had to quit work to care for Lily. Lily has never even been to a play gym. We can't go because Oliver has a weakened immune system, and there are just too many germs."
But CLIC Sargent has been there to help limit the damage cancer causes. They paid for grants so the family could afford new clothes for Oliver when his weight ballooned, and again when his steroids stopped and he wouldn't eat. The family also had a CLIC Sargent social worker who helped the family find out the benefits they were entitled to, and even filled out the lengthy Disability Living Allowance form on their behalf. When AJ was having trouble at school, their CLIC Sargent social worker met with the school to give them tools to support AJ and the family.
Donna added: "They take care of everything, so we can just concentrate on being a family. I don't know where we would be without CLIC Sargent's support."