If you love your fruit, here's an extra reason to stock up on the strawberries this spring: we are donating 20p from every 227g pack to our charity partner, CLIC Sargent - this year's promotion runs until 29th May 2018.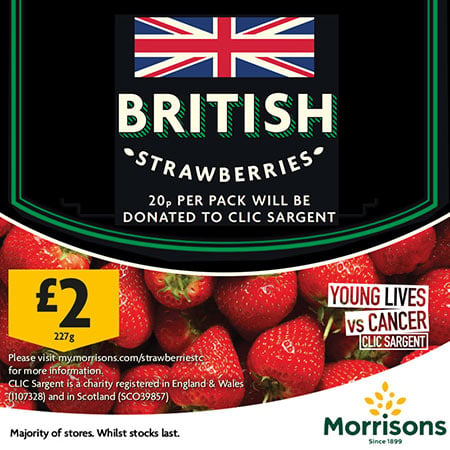 Every time you enjoy strawberries and cream, strawberry topped pancakes, strawberry smoothies, homemade strawberry jam, or even a round of strawberry skewers at your next barbecue during our special promotion, you'll be helping young people and their families fight cancer and deal with the impact of a diagnosis.
"Our first crop of British Strawberries is always exciting – and this year we are once again delighted to mark this moment by supporting the incredible work CLIC Sargent does to help children, young people and their families facing cancer."
Emma Spencer, Morrisons Strawberry Buyer
All the money we help CLIC Sargent raise during our three year partnership will transform the support this amazing charity can give to families. One of those families, the Whiston family from Woodseats, Sheffield, has been supported by CLIC Sargent since Amber, 8, was diagnosed with a brain tumour at eight months old.
Mum, Lara Joyce, said: "CLIC Sargent is the glue holding us together during what has been a really scary time. They always seem to know the right things to say, or give the best cuddles when words just aren't enough. When your child is ill your priorities change. They helped us keep control of the little things when we couldn't control the big things, like our daughter's health."
The family spent eight weeks in Oklahoma, USA, last year while Amber had proton beam therapy to control the growth of her tumour. They have shared their favourite pancake recipe that reminds them of their trip.
"Even though we were out there for treatment, we had the time of our lives" said Lara. "We were so lucky to get that time together as a family. We will be making lots of pancakes with Morrisons British strawberries over the next few weeks to remind us of Oklahoma."

Amber and Seth's Strawberry pancake recipe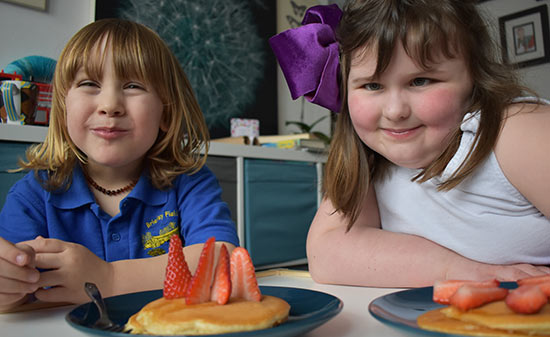 Ingredients:
6- 8 Morrisons British Strawberries, sliced
135g Plain Flour
1 tsp Baking Powder
2 tbsp Caster Sugar
130ml Milk
1 Large Egg
1 tbsp Melted Butter
Method:
Sift the flour, baking powder and caster sugar in to bowl. In another bowl, mix the milk, egg and melted butter.
Add the dry mix to the wet mix and stir until there are no more lumps! Add the sliced strawberries.
Time for the parents - get them to heat a pancake pan on the hob and add a knob of butter. When it has melted, add a dollop of the mix. Wait for a minute or two, and then flip.
Serve with strawberries on their own, or with maple syrup.
---
---