Halloween is slowly creeping up on us, so now's the perfect time to share our pumpkin carving ideas for kids ready for 31st October. Take a sneaky peek at the top tips below to make sure your Jack O'lantern is the talk of the graveyard this year.
We've all been there. Scrolling through endless pumpkin pictures with a pang of envy at every work of art our friends and other families have sculpted for Halloween. Fear not - thanks to Morrisons' very own carving expert, our 10 'top tricks' and easy-to-use templates, yours could be up there with the best of them this year...ready to scare the competition witless.
---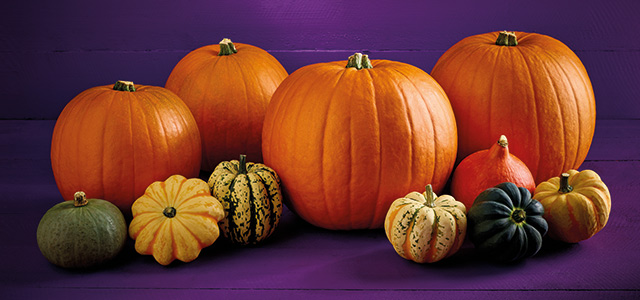 ---
Pumpkin Carving For Kids - Let's Get Started...
1. Choose a pumpkin with a good stem
A thick stem means a heavy pumpkin, which is better for carving.
2. Don't be scared of a freakishly-shaped pumpkin
For something extra scary, try a huge Rambo pumpkin or large Ghost/Orange pumpkin - or even one of our Wonky pumpkins. If your little monsters want to draw on faces with marker pens – try a small Gourd.
3. Pick the right tools
Get the kids to draw a design with marker pen, buy a reliable pumpkin carving kit or use a range of kitchen utensils – such as a knife (under adult supervision at all times of course), cocktail sticks and an ice cream scoop.
4. Use a terrifying template
The easiest way to carve a masterpiece is to download a template which can then be pinned or taped to the fruit. We've dusted the cobwebs off our own pumpkin carving ideas, so you can choose a fun pumpkin template here.
5. Time it right
Carve your pumpkin with the kids on the day you want to display it – they normally begin to collapse and start oozing unpleasantness within 48 hours.
---
Download our
pumpkin templates
---
6. Lance the lid
Draw a circle for a lid, 5cm from the stem. Push your carving tool through the skin and start drawing the knife back and forth in a sawing motion, cutting at a slight angle.
7. Spill out the gory guts
Gouge out the pumpkin's guts using an ice cream or pumpkin scoop or large spoon. Scrape the innards clean so that light will shine through. Don't throw it all away though - dig out your cauldron and make a warming pumpkin soup for Halloween supper instead.
8. Prepare the pumpkin
Using a template, prick your design onto the pumpkin with a cocktail stick, then dab talcum powder over it to make the design stand out. If you're a Pumpkin Picasso, just use a marker pen freehand.
9. Carve carefully
Cut out your kids' designs along the marker pen lines/cocktail stick pricks using a pumpkin carver, drawing it back and forth (as above, under adult supervision).
10. Use an LED light
Don't use a naked flame, which can be a fire hazard and should never be left unattended. Instead, pop an LED tea light into your pumpkin.
---
---