There are lots of things you can do to attract birds, bees, butterflies and bugs to your garden with a simple wildlife garden and a little habitat-making - just a few small changes can reap big rewards for your household. Here are just a few simple steps to get you going, and get the kids in the garden for some quality time with their nature-neighbours.

1. Plant the right plants
Adding a selection of wildlife-attracting plants is easy, and bags of fun. Planting a large range of varieties - perhaps in a raised garden bed or on your patio garden if you want to make a new feature - helps to get the most out of your wildlife garden and gives insects a nice selection to choose from. Depending on where you live, wildflowers like Delphinium (sky blue pictured), Malva Rosea (light pink pictured), Centaureas ('knapweeds' and 'cornflowers'), Achilleas ('yarrows') Polemonium ('Jacob's ladder') and Verbenas will attract bees, dragonflies, damselflies, ladybirds, shieldbugs, and moths during the summer months.
---
---
"Encouraging wildlife to live in your garden is largely down to the plants you choose. Variety is key, and will give insects lots of interesting places to explore."
Nigel Penn, Plants Buyer at Morrisons
---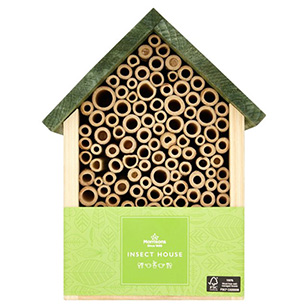 2. Open up a bug hotel
Kids love looking out for mini-beasts, so adding your very own 5-star hotel to the garden is a great way to get them into nature at a young age. All kinds of bugs could check in, like beetles, bees, moths and butterflies as well as beneficial insects that keep pests away. For example, earwigs are great for keeping plant lice away from your flowers and ladybugs love feasting on the aphids that munch on your veggie patch.
Laying some plant pots on their side and half-burying them will make lots of mammals feel at home as they pass through your garden - and they make great mature habitats as foliage grows in and around your little shelters.
---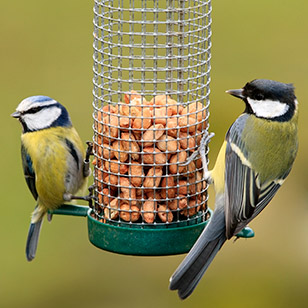 3. Feed the birds well
Bird feeders are really easy to hang up - and often get the birds into your garden in a matter of hours, even minutes if you have some food they fancy. Try tempting them with peanuts, sunflower hearts, fat balls, seeds and even kitchen scraps like finely chopped bacon rind.
You can also attract an array of wild birds by planting berried shrubs in the garden. They can also provide a great food source for birds in the cold winter. Make your garden into a bird spotting haven.

---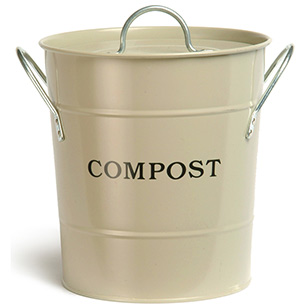 4. Create a compost heap
This is great for wildlife, and it also means your leftover food goes to good use too. Mixing uncooked food with garden waste and a little compost soil will speed up the natural recycling of nutrients - so it makes healthy 'mulch' to put in your garden around your plants, and a welcome haven for worms and other insects in the meantime. You can get started by encouraging the kids to pop any scraps into a kitchen compost bucket.
---
5. Brighten up your borders
Colours attract wildlife, so as well as plants and flowers you might want to introduce any fun pots and ornaments you have going spare to your garden. The tools they use for gardening can be nice and bright too - just for the fun of it.
---
---
Once you've created your wildlife garden, hold regular wildlife expeditions
Get your little ones to keep a beady eye on their wildlife garden as it grows, especially when the plants flower as that's when they provide the most pollen and nectar for bees, butterflies and other pollinating insects. It's fun to make a note of all the different types of insects you see together, so get them to make a checklist or even draw what they discover outside.
Remember to dig around though - things like woodlice live under stones and rocks, and so do millipedes, centipedes, snails, slugs and lots of different types of beetles.
---