What Is Chinese New Year?
The Chinese New Year is a festival that begins on the second new moon after the winter solstice and ending on the full moon fifteen days later. Just as with the Julian Calendar's Christmas and New Year festivities, it's all about getting together for celebrations with family and friends, special meals, fireworks, and giving gifts. The Chinese zodiac rotates around 12 animals, with each year representing one of these and symbolising different things.
2020 - The Year Of The Rat
Rats are said to be symbols of wealth. They're considered intelligent and successful creatures, often associated with contentment and a peaceful lifestyle. According to www.chinesenewyear.net, people born in the year of the Rat are said to be kind and likeable by all. Previous years of the Rat include: 1924, 1936, 1948, 1960, 1972, 1984, 1996 and 2008.
Did you know...
According to Chinese fable, the hierarchy of animals was determined by a race across a river. Legend has it the ox was the strongest and had nearly reached the opposite shore when a rat jumped over his shoulder to win. So if you were born in the year of the rat , you're a superior creature.
The Chinese don't make New Year resolutions. Instead, they wish each other health, happiness and prosperity.
The traditional dragon dance is believed to offer protection from evil. Chinese homes and businesses hang a lettuce from the top of their front door to attract the dragon; if it eats it, the residents will be blessed with good luck for the coming year.
Recipes For A Chinese New Year Celebration


Hot and Sour Soup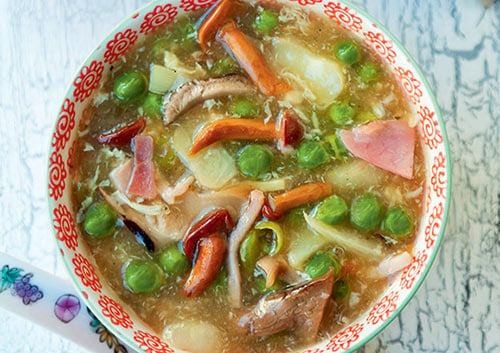 In a wok or saucepan, bring 600ml chicken or vegetable stock, made from a cube, to the boil. Add 50g pork loin, finely sliced, 50g carrots, peeled and finely sliced, 50g bamboo shoots and water chestnuts, drained from the can and finely sliced, 70g mixed Oriental mushrooms, drained from the can, 25g frozen peas, 4 tbsp rice vinegar, 2 tsp sugar and 1 tsp ground white pepper.
Cook for 2 mins until the vegetables are just tender. Mix 1 tbsp cornflour with 1 tbsp water, add to the soup and bring to the boil to thicken. Lower the heat, add a dash of sesame oil to taste, then pour in 1 egg, lightly beaten, and gently swirl the egg until set. Heat until the pork is cooked through, and serve.
Oriental Vegetable Spring Wraps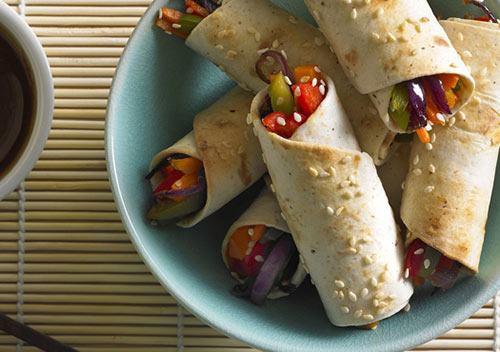 Cut 125g carrot and 125g red & green peppers into long 'matchsticks', and then slice 150g red onion thinly. Heat a little oil in a large pan, then add chilli, garlic and ginger and cook for a few minutes carefully without burning. Add the prepared carrots, peppers and onion and stir together so that the vegetables are coated. Lower the heat and allow to warm through for a further five minutes. Mix in the coriander and 1 tablespoon sesame seeds
Using scissors or a knife cut each tortilla in half and microwave for about 20 seconds to soften. Divide the mixture onto each tortilla half, (you can save any pan juices for the dipping sauce) and roll up neat and firmly. Preheat the grill and brush each wrap with a little olive oil and sprinkle with the remaining sesame seeds. Place under the heat until slightly golden and crisp. For the dipping sauce, mix together all the ingredients including any saved pan juices. Serve with the vegetable wraps for dipping.
Fish With Ginger & Spring Onion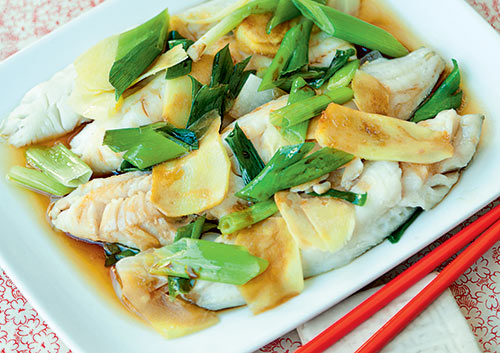 Pat 4 fresh whiting fillets dry with kitchen towel and quarter-fill a wok with water. Place the fish in a steaming basket over the wok, cover and steam for 15 mins until cooked through and fish flakes easily with a fork. Transfer the fish to a serving dish and keep warm.
Meanwhile, drain the water from the wok. Heat 2 tbsp sesame oil in the wok, add 3 spring onions, chopped, and 1 knob fresh ginger, peeled and thinly sliced, and stir fry for 1 min. Add 1 tbsp light soy sauce and 1 tbsp water and simmer for a few mins to thicken. Pour the sauce over the steamed fish, and serve.
Chicken Fried Rice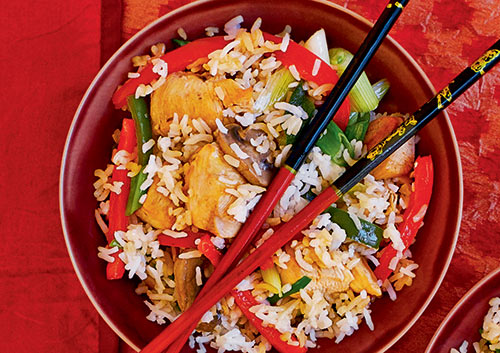 Heat 1tbsp sesame oil in a large wok over a high heat. Add 350g diced chicken breast fillet and stir-fry until golden. Add 2 finely chopped cloves of garlic, 2 sliced peppers, 4 sliced mushrooms and 1tsp Chinese Five Spice and stir-fry for 5 minutes or until the chicken is cooked through and no pink meat remains.
Stir in 2tbsp dark soy sauce and 6 trimmed and sliced spring onions. Add 300g cooked rice to the wok, then 100ml chicken stock. Stir-fry for 2-3 minutes and serve immediately.
Mixed Vegetables With Cashew Nuts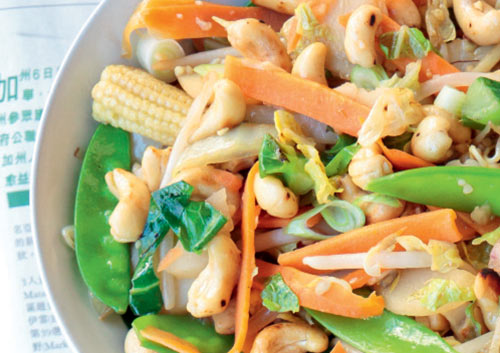 Add 1 tbsp of the oil to a hot wok, lower the heat, add 100g cashews and toast for 1-2 minutes until golden brown. Remove with a slotted spoon and set aside. Add the remaining oil to the wok and stir fry 1 finely sliced garlic clove and 1 knob fresh ginger for a minute. Raise the heat and add 125g baby corn (sliced lengthways), stir-frying for two minutes until it begins to soften.
Next, add a pack of stir-fry vegetables and stir fry for three more minutes. Add 115g mixed Oriental mushrooms drained from the can and stir-fry for a further minute. Add 1tsp sugar, 1tsp light soy sauce, 1tsp dry sherry and 5tbsp vegetable stock (made from just half a cube), stir in 1stp cornflour mixed with water and simmer for a minute to thicken. Return the cashews to the wok and season to taste with sesame oil. Transfer to a serving dish and serve.
Chinese Style Beef In Oyster Sauce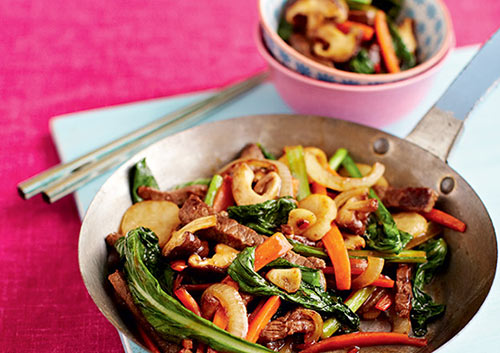 Heat 1tbsp sunflower oil in a large non-stick wok or frying pan and add 400g frying steak (cut into strips). Stir-fry over a high heat for 2 minutes then add 1 sliced onion, 2 deseeded and sliced red chillies, 2 cloves of thinly sliced garlic, 200g carrots (matchsticks), 200g chopped mushrooms and 100g water chestnuts to the pan and stir.
Stir-fry for a further 5 minutes until the vegetables are just tender but still crunchy. Toss in 200g pak choi (separated into leaves) with 120ml oyster sauce and 4 tbsp of boiling water, before stir-frying for a little longer until the juices are bubbling and the pak choi has just wilted. Serve straight away while hot.
Oriental Lamb Stir-Fry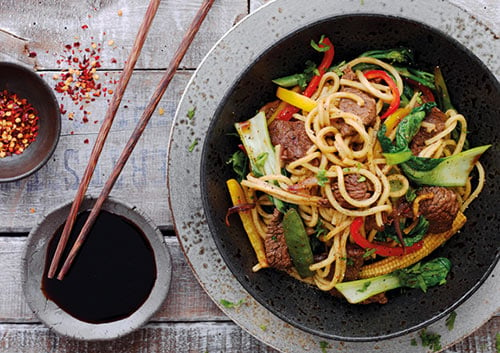 To prepare the marinade; in a shallow bowl mix 90ml Worcestershire sauce, 30ml runny honey, 1tsp Five Spice, 1 large finely chopped garlic, 2tbsp light soy sauce, half a tsp dried chilli flakes and a piece of peeled, chopped ginger with 2 pinches each of salt and pepper to mix a marinade. Add the lamb, stir to coat, cover and set aside for 10 minutes.
Heat 2 tsp rapeseed oil in a large, non-stick frying pan or wok, remove the lamb from the marinade (reserve the marinade) and stir-fry for 3-4 minutes, tossing frequently. Add the reserved marinade, 300g vegetables and 400g fresh egg noodles, toss gently and cook for a further 2-3 minutes. Season, if required. Garnish with the parsley and a little soy sauce, if used and serve immediately.
Mango Pudding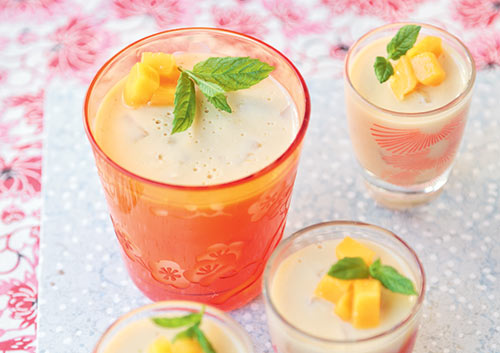 Sprinkle a sachet of gelatine powder over 100ml hot water and stir well to dissolve. Allow to cool a little. Purée a can of sliced mangoes in a food processor until smooth then mix with a 170g can of evaporated milk and the gelatine. Stir in 5tbsp caster sugar. Pour into moulds or glasses, cover and leave in the fridge to set. To serve, squeeze over fresh lime and garnish with mint and fresh mango.