Brussels Sprouts Recipes For Christmas
Top tips before you start on the sprouts:
Don't cross
Don't cross the bottoms - this is an old wives' tale and it makes them go soggy.
Quick cook
The secret is to drop them in cold water after boiling to prevent them over-cooking.
Add flavour
Fry them up with bacon or pancetta (see below) for delicious pan-cooked sprouts.
Pan-fried Brussels Sprouts with Bacon or Diced Pancetta
These pan-fried sprouts are so delicious you'll be adding 'seconds' to your Christmas list.
Buy the ingredients together online with one click >>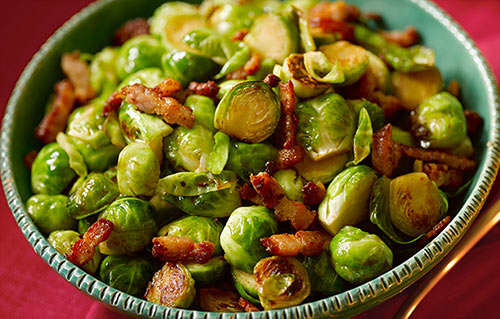 Top tip:
When frying or sauteeing Brussels Sprouts in a pan, halve them first to create more seared surfaces and add extra flavour.

Try an alternative pan-fried sprouts recipe using Mellow Yellow Rapeseed Oil here>>
Sauteed Brussels Sprouts with Pecans
Spruce up your sprouts with some pecan nuts, and add a christmassy crunch to your main event.
Buy the ingredients together online with one click >>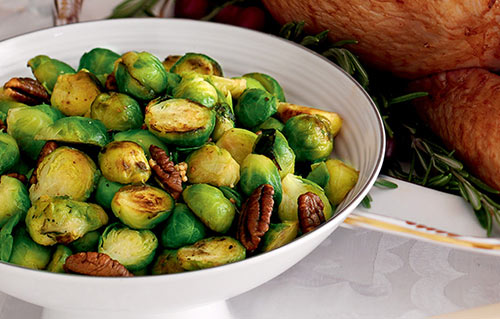 "I love sprouts anyway, but pecans take them to a whole new dimension. Steam them in advance then pan-fry on the day."
Morrisons Chef, Richard Jones
Hot Christmas Brussels Sprouts Wrap
Make this easy festive Xmas wrap to serve as a light lunch - or to use up your turkey leftovers.
Buy the ingredients together online with one click >>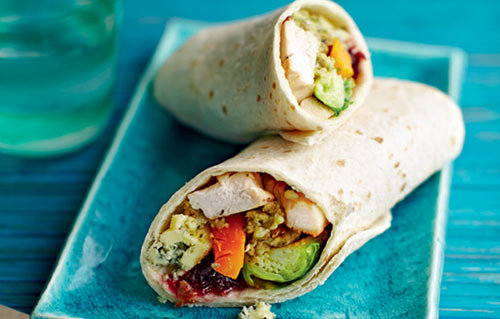 Did you know...
Sprouts are low in calories and high in fibre, they contain potassium to help keep blood pressure normal and are full of folate, which helps your immune system to work normally.
Vegan Roast Vegetable Butternut Squash
This recipe is a great way serve sprouts a little differently, and ideal for any vegans looking for a tasty dish.

Buy the ingredients together online with one click >>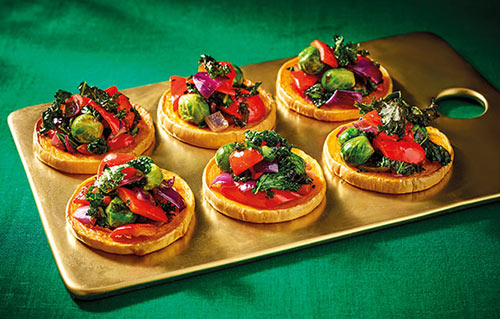 A rough guide to your countdown to Christmas lunch
10am - Prepare the turkey and put it in the oven.
10am-12.30pm - Peel potatoes and prepare the some parsnips and carrots, sauteed or pan-fried sprouts, and pigs in blankets. Make the bread sauce and cranberry and port sauce.
1pm - Take the turkey out of the oven and check to make sure the juices run clear, if cooked leave to rest covered in foil. Place the potatoes in the oven.
1.20pm - Place stuffing, parsnips and carrots, and pigs in blankets in the oven.
1.30pm - Serve the starters.
1.45pm - Reheat some bread sauce and the cranberry and port sauce, make the gravy.
2pm - Carve the turkey and serve your Christmas lunch with all the trimmings.