Looking for DIY Mother's Day Gifts inspiration? Homemade Mother's Day gifts are the perfect and cost-effective gift. Enjoy homemade vases, biscuits and more ideas here. Here are three of our favourite ways to get crafty, with step-by-step instructions on how to make Mum's day.

Ribbon & Rose Vase
We have a wide range of fresh Mother's Day flowers to pick from, so you can choose any blooms for your box - simply choose ribbon colours that will complement your arrangement. A handmade vase is great for other occasions too, and mum can use it for trinket storage until you buy her another bunch.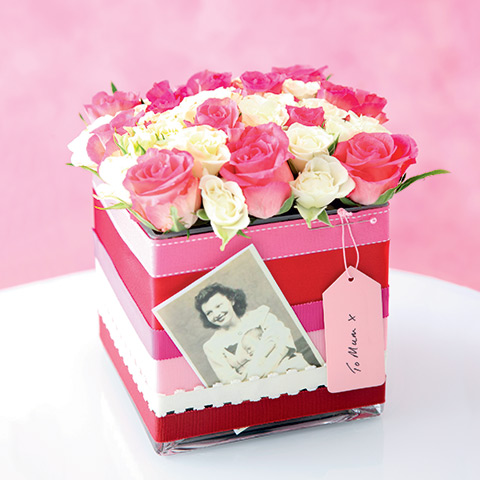 You will need:
Floral foam
Straight-sided vase
Selection of pretty ribbons
Pins or needle and thread
Double-sided tape (optional)
Fresh flowers
Photograph
Gift tag
How to make it:
Cut the floral foam to fit snuggly in your vase with the top around 2cm from the vase rim. Pour 2 cups of water into the vase; the floral foam will absorb it quickly.
Measure round your vase, add about 5cm and cut a selection of ribbons to this length. Wrap the ribbons tightly around the vase, starting at the bottom and folding the ends neatly at the back. Hold them in place with small pins or neat stitches. Use small pieces of double-sided tape to keep the ribbon in place if it slips.
Cut the flower stems to an appropriate length for your vase and remove any leaves. Carefully arrange the flowers in the floral foam, continuing until it is fully covered. Water or spray the flowers.
Tuck a photo into the ribbon for a personal touch and tie a gift tag on. Keep the floral foam damp so the flowers last as long as possible.
Decorated Biscuits
You can use any type of biscuit to fill this handmade box - as long as they're flat enough to provide a base for your pretty handiwork. We recommend chunky varieties like gingernuts, so the biscuit stands up to the frosting and doesn't break easily.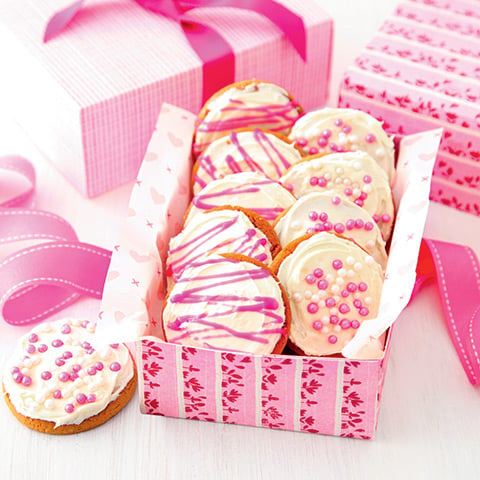 You will need:
Biscuits
Vanilla flavour frosting
Sugar pearls
Writing icing
Gift box
Tissue paper and ribbon
How to make it:
Place the biscuits on your work surface. Cover them with the vanilla flavour frosting, smoothing it flat with the back of a knife.
Sprinkle half with sugar pearls before the frosting sets, and decorate the remaining biscuits with writing icing.
Line the base of your gift box with tissue paper and place the biscuits inside. Replace the lid and tie with a ribbon.

Lavender-filled Hearts
A sweet-smelling treat will always go down well as a Mother's Day gift. This idea is lovely to do together on the day. If you don't have dried lavender, fill the hearts with potpourri, or soak a few cotton wool balls in an essential oil and stuff in with more cotton wool.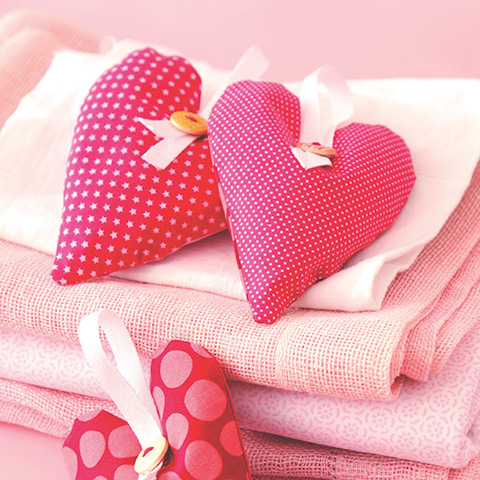 You will need:
2 x 20cm squares pretty fabric
Pins
Heart template
Matching coloured thread
Needle or sewing machine
Dried lavender
20cm ribbon
Coloured embroidery thread
1 decorative button
How to make it:
Place the 2 pieces of fabric on top of each other, right sides together.
Pin the heart template to them and cut round neatly. Remove the template (save it if you want to make more hearts) and re-pin the 2 fabric hearts together.
Hand- or machine-stitch around the outside of the hearts, approximately 1cm in from the edge, leaving an opening of 3-4cm. Turn the heart the right side out and iron flat to give a neat finish.
Stuff the heart with dried lavender then neatly stitch the opening closed.
Use the embroidery thread to attach a hanging ribbon loop at the top of your heart and finish with a decorative button.