Serve up these bite-sized bursts of summer at your next warm weather get-together, and try something different when it comes to the finger food desserts. These fun party pieces will go down a treat at barbecues, picnics, garden parties or any other gathering.
---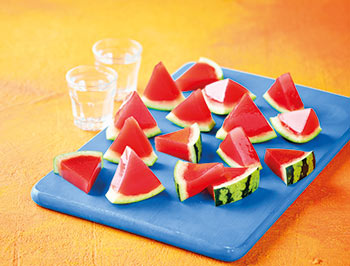 ---
You will need:
Caster Sugar
Watermelon
Vodka
Gelatine
Buy all the ingredients you need together online >>
How to make watermelon vodka jelly shots
Cut the watermelon in half, remove the seeds and use a serrated knife to cut around the flesh. Use an ice cream scoop or large spoon to remove all the flesh and place into a blender. Blend all of the flesh until smooth.
Once blended, strain the pulp through a really fine sieve into a large bowl to extract all the juice. This should leave you with approx 800ml of watermelon juice.
Pour 50ml of the watermelon juice into a saucepan and bring to the boil. Add in the sugar and stir to dissolve for 2 mins.
Allow the juice in the saucepan to cool a little and then add in the gelatine and stir until dissolved. (Follow pack instructions on how to dissolve the gelatine) Once fully dissolved, add in the rest of the watermelon juice and vodka.
Ladle equal amounts of the juice into each watermelon half. Transfer to the fridge to set for at least 4 hours, preferably overnight. When ready to serve, use a serrated knife to cut the watermelon into wedges.
---
More Watermelon Ideas We Think You'll Love...
---
---