How To Prepare Parsnips
Firstly, wash and peel the parsnip with a peeler (a knife may be easier if you have a wonky parsnip) - then trim both ends and cut into pieces.
The more rugged and rustic the better for warming autumn dishes, while neat and tidy batons are best with your Christmas dinner.
Roast or steam for the best results - boiling can leave them soggy and mushy. For a side dish, roast at 180°C for about 20 minutes, or steam for 10 minutes until soft.
You can also try grated raw parsnip as a salad ingredient over your usual favourites for a light lunch.

Maple Roasted Roots Recipe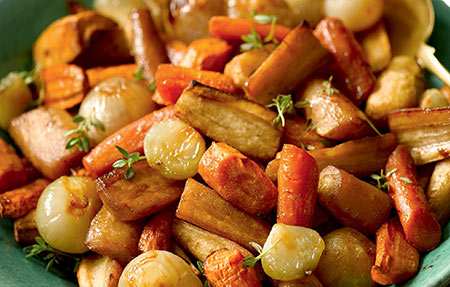 You'll need:
800g carrots
800g parsnips
300g shallots
3 tblspn maple syrup
3 tblspn sunflower oil
1 pinch ground cloves
1 thyme sprigs
Recipe instructions:
Heat the oven to 200c/ 180c/ Gas 6. Place the vegetables in a large mixing bowl.
Drizzle the maple syrup and sunflower oil over the vegetables, sprinkle with ground cloves and season to taste. Toss together well and transfer to a large roasting tin.
Roast for 40 minutes, turning the vegetables halfway through the cooking time. just before serving scatter with the thyme.
Parsnip & Pear Soup Recipe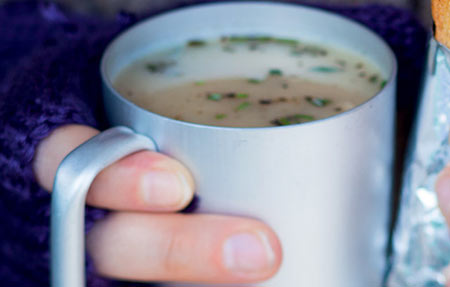 You'll need:
1 tbsp sunflower oil
2 pints vegetable stock
4 shallots, peeled and diced
500g parsnips, peeled and cut into chunks
1 tbsp cider vinegar
2 pears, peeled, cored and diced
1 tsp fresh rosemary leaves, chopped
50g blue cheese, crumbled
Recipe instructions:
Heat the oil in a large pan and add the shallots. Fry gently for 5 minutes until they're softened but not browned.
Add the parsnips, cider vinegar, pears and stock and bring to the boil. Cover and simmer for 20 minutes, then blend with a stick blender (or in a liquidiser) until smooth - add more stock if needed.
Add the rosemary leaves, cheese and a little seasoning. Cook over a low heat, stirring until the cheese melts, then serve.
Roast Chicken & Root Vegetables Recipe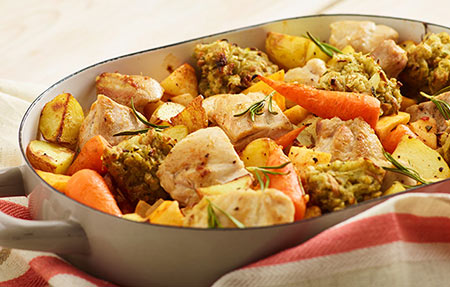 You'll need:
8 chicken thighs, skinless
50ml olive oil
150g carrots
150g swede
150g parsnips
150g onions
150g new potatoes
1 chicken stock cube
1 pack sage and onion stuffing
100g shallots
2 garlic cloves
25g tomato puree
2 sprigs fresh rosemary
25g butter
Recipe instructions:
Begin by preparing the vegetables. Peel and chop onion, carrots, swede and parsnip into bite sized chunks (around 20mm x 20mm). Then, wash and quarter the new potatoes
Cut the chicken thighs in half, strip and chop rosemary and crush the garlic.
Mix all the above with the (crumbled) stock cube, tomato puree and oil.
Place the mixture in a roasting tray, in a hot oven, at 200 degrees for 15 minutes.
Remove from the oven and stir well. Add a little water if the vegetable or chicken has become too dry. Pop the tray in the oven and bake for further 15 minutes at 180 degrees.
Meanwhile, peel and finely chop shallots, then gently fry in butter without allowing them to brown.
When the shallots are soft, add them to stuffing mix and hot water as per instructions on the packet.
Leave to stand for 5 minutes then divide into 8 stuffing balls.
Place the stuffing on a separate roasting tray alongside the chicken and vegetable bake.
When stuffing balls are browned, remove both items from the oven and serve.