Making your own fresh bread is one of life's (really) simple pleasures. Here, we share our tips on how to bake a basic loaf. Once you master it, you'll be able to try other bread recipes with fruit, vegetables and other flavourings.
---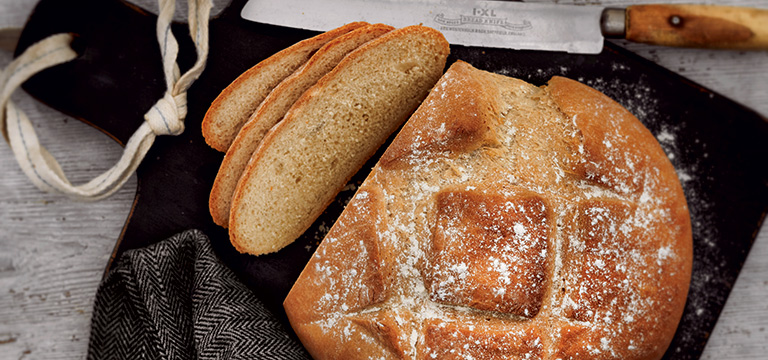 ---
How to make your own fresh bread
Just one of the many Morrisons bread recipes you can try...
Method:
1. Sift your flour and salt into a large bowl. Rub in the butter with your fingertips until you have a good mix, then stir in the yeast.
You don't have to use butter, but it does give a soft, light texture and a golden finish.
2. Make a 'well' in the middle of the flour and pour in the water little by little. Mix with your fingers until the dough comes together, then transfer this to a lightly floured worktop and knead for 10-15 minutes until the dough is smooth and springy.
3. Form a ball of dough and place it on a lined baking tray. Cover with lightly oiled clingfilm and leave in a warm place until the dough has doubled in size – which will take about 1 hour.
If you prefer your fresh bread baked by experts, take a look at the loaves we make for our shelves ourselves >>
4. Heat the oven to 200°C/180°C fan/Gas 6. Using a serrated knife, cut 4 slashes into the dough to form a square on the top (be careful not to fully stab the dough)
5. Dust with flour then bake for 35-40 minutes until risen and golden – the loaf should sound hollow when tapped on the bottom - if it does it's ready to enjoy.


View the full recipe here and buy ingredients online for home delivery >>