Each year the UK gets through 40 million tonnes of portable batteries. Only 45% of this is recycled, which means around 22 million tonnes of batteries are either sitting in our homes or have been dumped into holes in the ground or burnt.
A Hubbub poll highlighted the fact that UK households are hoarding 178 million batteries - the equivalent weight of about 55,000 Ozzy Osbournes - and the Bring Back Heavy Metal initiative is designed to encourage all of us to 'dig out our duds' and recycle.
Heavy metals like lead, mercury, cadmium, zinc, manganese and lithium can be hazardous if not disposed of properly, yet half of the respondents to the survey admitted throwing batteries away in the regular waste bin. This results in millions every year ending up in landfill, with the potential to leach into the ground and water supplies if not carefully managed.
Look out for a 'Bring Back Heavy Metal' recycling point in your nearest Morrisons - all our supermarkets have one
We have battery collection points in every store - usually near the front - so all you need to do is dig out your old batteries, bring them with you on your next shopping trip and drop them into our special bins. As Christmas approaches, it's a great opportunity to check all your toys, devices and remotes controls for 'duds' to bring along.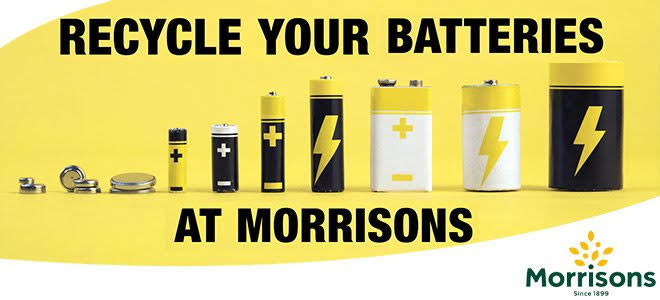 Getting people to take their batteries for recycling is only half the story. Currently the UK exports the majority of its batteries for treatment overseas to countries such as Poland, France and Germany. This is due to the lack of recycling facilities on UK soil. To remedy this situation Hubbub is partnering with Ecosurety who are working with Belmont Trading Ltd to create a recycling plant in Scotland that will have the capacity to deal with around 80% of the UK's batteries - many of which we hope to collect in our stores. To get involved head to www.bringbackheavymetal.co.uk
Once you've recycled your batteries, you can pick up some more here >>