A day in the life of Adrian and Charles Friel
Adrian and Charles joined our Coleshill store after their work as professional photographers was affected by the pandemic. Their roles centre around 2 areas, looking after our in-store Food Banks Project, and getting out in the community to engage with local organisations in need of support.
From creating gift bags for school holiday clubs to raising money for CLIC Sargent, here we take a look at a day in the life of Adrian and Charles: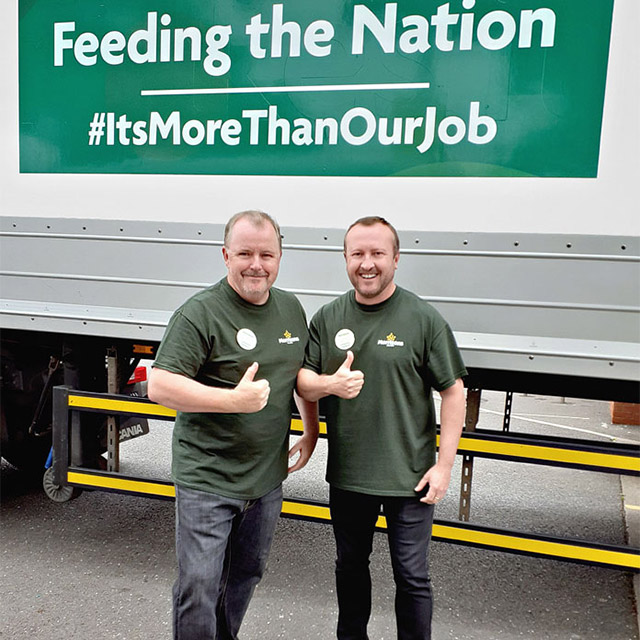 "Myself and my fellow Community Champion Charles Friel at Coleshill are professional photographers. When our business suffered in March due to the pandemic and we found bookings postponed we decided to join Morrisons as Community Champions.
An early start
"We start at 7am by replenishing our Pick up Bags in-store. It's going fantastically and we are all about the presentation. Since our half page article in The Tamworth Herald the donations have shot up!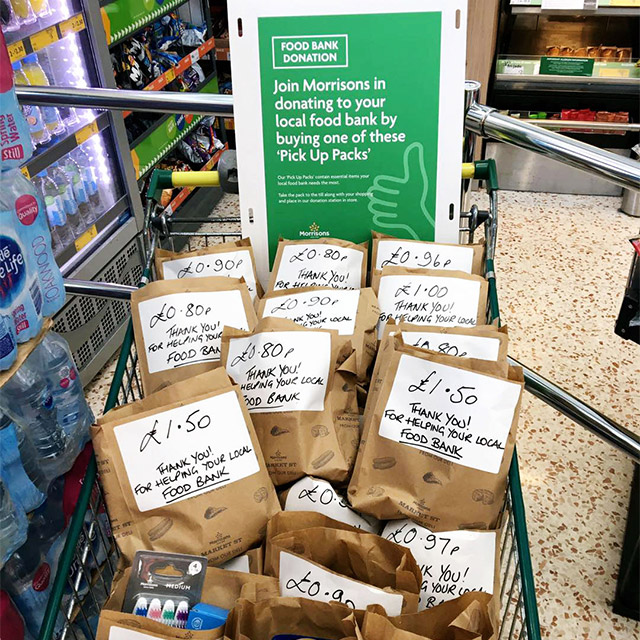 "The 'Pick up Bags' have been a huge success in Coleshill store. Every morning we make up small parcels of food or toiletries. Customers then pick up one of these bags on the way in, pay for it with their usual shopping then place it in our Food Bank Hub. We then deliver these items. It has been a huge success with the Food Banks as we work closely with them to determine what they need the most. We then tailor the bags to the needs of the Food Banks and they get donations of exactly what they need. Customers have given us great feedback too, saying they love helping us in Feeding The Nation - many regular customers buy 2 or 3 bags a week.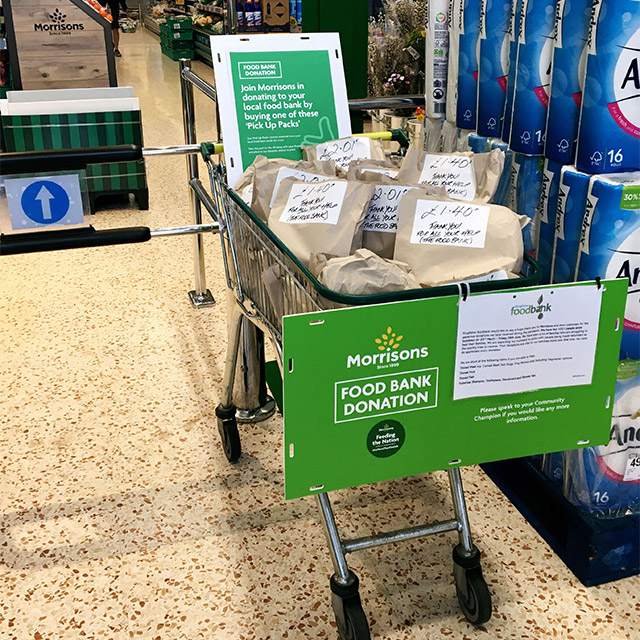 The first stop
"Next, we head off to two Food Banks, at one we donated various unsold food and bread items we charity wasted, something we are very passionate about. We also donated to a Church Food Bank who cook meals on site for the elderly and vulnerable.
"We work with Food Banks that are part of The Trussell Trust network which are Kingfisher Foodbank & Nuneaton Foodbank. We also deliver to Ediblelinks, which is part of the North Warwickshire Healthy Living Network & Kingshurst Evangelical Church. Both of these receive donations of Food & Produce which are used to cook meals for the Elderly & Vulnerable within our community.
Engaging with the community
"We want to start working with our local community who are running School Holiday Clubs. So next, we head off to a meeting with a local stakeholder who is doing amazing work with Children's Clubs and Playgroups. They're running Art and Cooking classes so we organised a plan of how we can help, and collaborate with them over the summer and beyond.
"This Friday we're creating some gift bags, including Children's Factor 50 suncream (we hear it's going to be a hot weekend) and some fruit, and will meet parents as Morrisons Ambassadors at the door when they collect their children to hand out our gift bags.
Making connections
"We then went into Birmingham in our Uniforms and spoke to lots of different shops, explaining our CLIC Sargent raffle, showing our CLIC Letter of Authority and connecting with them in person. We made fantastic contacts with shops like HMV, Disney Store and Selfridges. We came away with a huge teddy donated by The Entertainer Toy Shop worth £40 for our raffle.
"This is a great example of how we plan our day and how the Spider's Web effect helps us to make great connections and promote great work within the community. We love to bring some personality and passion to our work."