To celebrate National Butcher's Week from 12th - 18th March, we've created a special pack that contains enough fresh red meat to feed a family for a fortnight...for £10. Take a look below, and try our serving suggestions for the pork, beef and more in our selection - as well as other expertly prepared cuts from our butchery counters.
What is National Butcher's Week?
Held annually - this year between 12th and 18th March - National Butcher's Week highlights the wonderful work and skill of our meat specialists. Although we always love to talk about our fresh cuts of pork, lamb, beef, turkey and chicken, this week is a great opportunity to really make the most of with a tasty selection of 'meat menu' recipe ideas - keep reading for our top recipe tips.
All Morrisons fresh meat is
100% British, 100% of the time.
Find out more here >>
Feeding the family - The £10 Meat Pack
Across the country this week, our 2,000 dedicated butchers will prepare every cut of meat for the special 'Butcher's Week' packs and put them together by hand - ready to feed your family. Our giant British Meat Pack contains a 900g Pork Loin Joint, 420g Steak Mince, 450g Lean Diced Beef and 8 The Best Pork Sausages.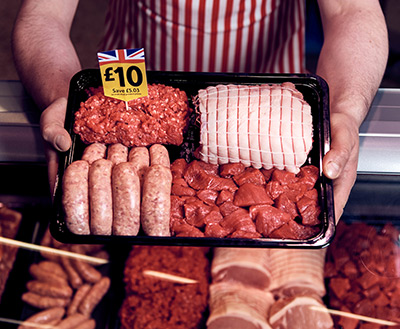 To make sure you serve your meat as well as they do, our butchers will be happy to offer expert advice on how to cut, cook and prepare each item.
The pack has been designed around popular British family favourites, and buying one is a great way to plan ahead for your meals. You could rustle up a roast using the pork loin joint, treat the family to a chilli con carne on a chilly evening, serve up a beef stew after an outing at the weekend or make bangers and mash for some midweek quality time together - all with a single giant meat pack. They're just some of the serving suggestions you might get in store to help you make the most of your meat - but please ask our butchers for more cooking tips if you'd like to try something else.
More 'meat menu' inspiration - try our recipes online
If the special pack is too big for you, or you'd prefer to buy smaller portions of different meats separately, you can find lots of recipes online and buy your ingredients all at once at Morrisons.com/recipes - we've picked out some meaty must-try recipes from our collection below.
---
---