Mellow Yellow Roasted Spiced Cauliflower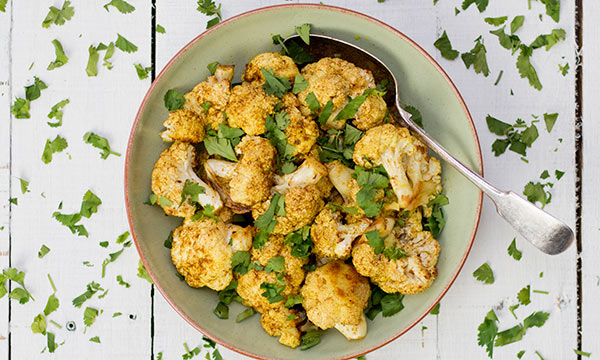 A hint of garam masala, a pinch of salt and good glug of Farrington's Mellow Yellow Cold Pressed Rapeseed Oil can transform a cauliflower into a dish full of flavour and colour. Serve as a side to add a touch of Indian inspiration to any meal.
Ingredients:
2 tsp garam masala
½ tsp salt
3 tbsp Farrington's Mellow Yellow Rapeseed Oil
1 cauliflower
How to make roasted spiced cauliflower:
Preheat your oven to 190°C/180°C.
To a small bowl, add your garam masala, salt and Mellow Yellow Rapeseed Oil. Mix together well.
Cut your cauliflower into small florets. Paint each floret with your spiced oil mixture and place into a baking tray. Roast for 30 minutes or until the cauliflower is cooked through.
Mellow Yellow Pan-fried Brussels Sprouts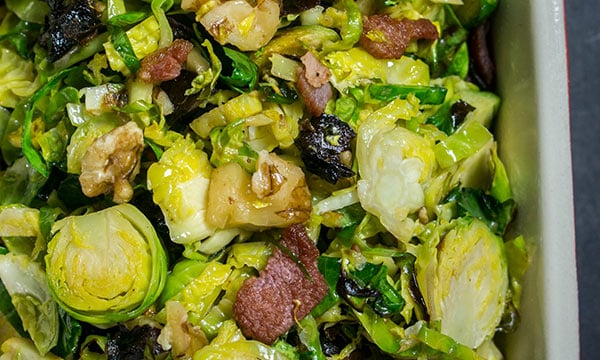 A fresh combination of shredded Brussels sprouts with crispy bacon, soft prunes and crunchy walnuts – these pan-fried favourites are a delicious addition to your Christmas roast.
Ingredients:
320g Brussel sprouts finely sliced
2 slices smoked bacon fairly finely chopped
7 soft prunes chopped
Handful chopped walnuts
1 tablespoon Farrington's Mellow Yellow Rapeseed Oil
salt and black pepper
How to make pan-fried Brussels Sprouts:
Heat a tablespoon of Mellow Yellow in a frying pan, when the oil is hot add the chopped bacon and
fry until crispy.
Add the finely sliced Brussels sprouts, stir to coat in the oil. The chopped prunes and walnuts can now be added, then season with salt and freshly ground black pepper to taste.
Continue to stir fry until the Brussels are softening a little but be careful not to overcook to retain a
good texture and the lovely green colour.
Discover more Brussels Sprouts Recipes Here >>
Mellow Yellow Stollen Muffins

A twist on your usual Christmas Stollen 'loaf, here's a muffin variation. These individual treats are great for when friends and family pop round during the festive period, with pockets of marzipan, cherries and raisins to delight them.
Ingredients:
180g self-raising flour
60g ground almonds
1tsp baking powder
½ tsp nutmeg
½ tsp mixed spice
190ml Farrington's Mellow Yellow Rapeseed Oil
50ml whole milk
180g soft light brown sugar
3 eggs
½ tsp vanilla extract
50g morello cherries, plus 6 for topping
120g marzipan, cut into ½cm cubes
80g mixed raisins
40g blanched almonds, chopped
Zest of 1 lemon, grated
Flaked almonds to decorate
Icing sugar, to decorate

How to make Stollen Muffins:
Preheat your oven to 190C / 170C fan. Mix together your flour, ground almonds and baking powder and put to one side.
In a separate mixing bowl, cream together your Mellow Yellow Rapeseed Oil, milk and sugar with an electric whisk until it reaches a thick, almost caramel-like consistency.
Beat your eggs in a jug with your vanilla extract, then pour this into the mixture a little at a time, whilst still whisking.
Fold in your flour mixture, followed by the marzipan, raisins, cherries, almonds and lemon zest.
Pour into 12 muffin cases and decorate each with a sprinkling of flaked almonds and half a cherry.
Bake for 20-25 minutes and leave to cool on a wire rack. Dust with icing sugar and enjoy.
Find more Christmas ideas and inspiration >>
Mellow Yellow Mince Pies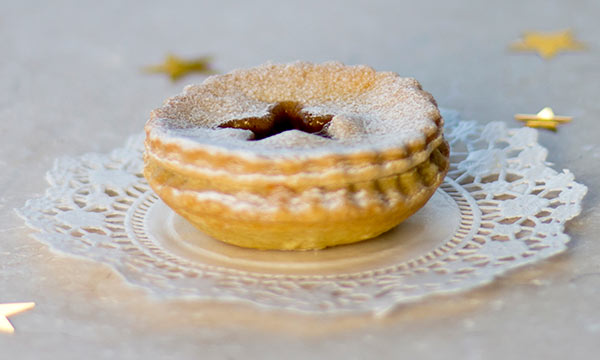 Make this tasty treat as a Christmas Eve tradition, ready to leave out for Santa. Adding chopped apple to the mincemeat makes this a special bite - we challenge you to eat just one.
Ingredients:
300g plain flour
100ml Farrington's Mellow Yellow Rapeseed Oil
100-120ml cold water
½ tsp salt
2 tbsp unrefined caster sugar
2 tbsp mincemeat
1/2 large apple, peeled, cored and finely chopped
12-hole muffin tin
How to make Mince Pies:
Preheat the oven to 180°C. In a large mixing bowl, stir together the flour, sugar and salt. Pour in the Mellow Yellow Rapeseed Oil and stir until evenly mixed through, then rub in until breadcrumb-like.
Make a well in the centre and pour in half the water, using your hands to combine into a dough.
Drizzle in more water if required until the pastry holds together and can be shaped into a ball.
Wrap the pastry in clingfilm and chill for 30 minutes in the fridge. During this time, mix together your mincemeat and chopped apple.
Roll out your pastry on a floured surface and, using a circular cutter, cut out 12 bases. Push these into a muffin tin and spoon a teaspoon of your mincemeat mixture into each.
Using a slightly smaller circular cutter, cut out 12 lids. You can also cut a small star out of the lids at this point. Using a little bit of water as glue, stick your lids on top of your cases and gently press the edges down to seal. Bake for 20-25 minutes, until golden on top.
Mellow Yellow Vegan Ginger Cake
Vegan or not, this is a great simple cake that's quick and easy to make with everyday store cupboard ingredients. Try it today - and watch out for more Mellow Yellow recipes coming soon.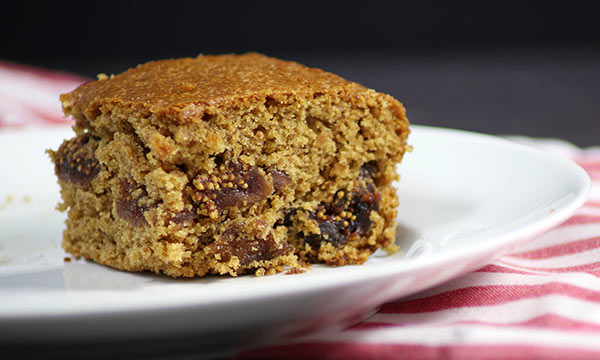 Ingredients:
350g plain flour
225g sugar (soft dark brown is good for colour and flavour but any would work)
100g Farrington's Mellow Yellow Rapeseed Oil
2-3 tsp ground ginger
1 tsp baking powder
½ tsp bicarbonate of soda
Pinch of salt
60g treacle
225ml boiling water
½-1 tsp ground cinnamon (optional)
½-1 tsp ground allspice (optional)
Handful of dried dates or figs chopped (optional)
How to make the Vegan Ginger Cake:
Place all of the ingredients into a bowl and beat until you have a smooth golden brown batter.
Pour into 8inch/22cm square tin lined with baking paper.
Bake at gas mark 4/ 180°C for about 35-40 minutes until risen and a skewer inserted into the middle comes out clean.
Top Tip...
When weighing the treacle put the spoon into a jug on the scale, then zero them, use the spoon to dollop the treacle into the jug without scraping the spoon, then re-zero the scales and weight 225g of boiling water into the jug which will dissolve all the treacle, saving any sticky scraping of the
spoon.