Increasingly popular in foodie hotspots like New York and London, Korean BBQ cooking is bursting out of the restaurant and onto the patio - as those in charge of the garden grill start to experiment with different combinations and more readily available ingredients.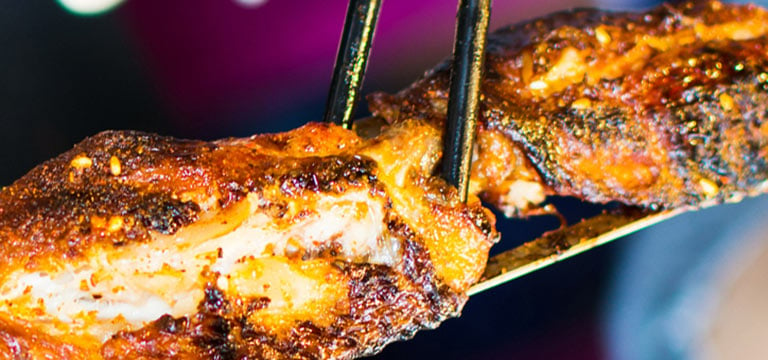 As delicious as it is on-trend, Korean BBQ food combines simplicity with distinctive flavours - the ideal recipe for summer get-togethers.
Korean bbq dishes generally consist of beef, chicken and pork - typically thinly sliced, marinated (not always though) and cooked quickly. Marinades also play a big part, and a key ingredient here is Gochujang - a red chilli paste that contains glutinous rice, fermented soy beans, salt and sometimes sweeteners. Heat can vary depending on the brand you buy, and can also be used to make dipping sauces and pep up stews and soups when barbecue season is over.
Bulgogi (this literally means fire meat)
Use thinly sliced pork loin or belly - if you prefer, try ribeye or sirloin steak...
For the Marinade:
6 tblspn sweet soy
2 tblspn minced garlic
2 tblspn sesame oil
Fresh ground black pepper
Method:
Combine all the ingredients and marinade your beef for at least 2 hours.
To cook drain the meats and cook quickly in a hot frying/grill pan also suitable for the bbq
Dwaeji Bulgogi
Use 500g Pork loin/pork belly – thinly sliced...
For the marinade:
4 cloves minced garlic
0.5 tspn minced ginger
1 chopped spring onion
1 tblspn soy sauce
2 tblspn brown sugar
a pinch ground black pepper
2 tspns toasted sesame oil
3 tblspn gochujang
Method:
Combine all the ingredients and marinade your pork for at least 2 hours. To cook drain the meats and cook quickly in a hot frying/grill pan also suitable for the barbecue. For both beef and pork bulgogi, serve with rice and kimchi or place a piece of meat onto a lettuce leaf with a slice of green chilli and some ssamjang dipping sauce.
Top Tip: Add Gochujang to your food cupboard - it's a stock ingredient for many Korean recipes and can add a great twist to any barbecue.
Ssamjang dipping sauce
You will need:
2 tblspn doenjang (fermented soybean paste) use miso paste if unavailable
1 tblspn gochujang (hot pepper paste)
1 clove of garlic finely chopped
0.5 small onion finely chopped
2 tspns honey
2 tspns toasted sesame seeds
2 tspns sesame oil
3 tblspn water
Method:
Simply combine all ingredients in a bowl - the sauce can also be mixed with mayonnaise.
Dakkochi (Korean BBQ chicken skewers)
Use 800g Chicken breast or skinless and boned thigh.
You will need:
Rice wine
Salt and pepper
Sunflower oil
12 skewers
For the sauce:
To make spicy gochujang sauce – enough for 4 to 5 basting on 6 chicken skewers on a 25cm...
0.25 cup tomato ketchup
2 tbsp gochujang (Korean chilli paste)
2 tbsp honey
2 tbsp dark brown sugar
1 tbsp soy sauce
2 tsp sesame oil
0.5 tsp minced garlic
Method:
Combine all ingredients in a medium bowl. Mix them well. Set it aside until needed.
Sweet soy sauce Marinade
This will provide enough for 4 to 5 bastings on 6 chicken skewers on a 25cm...
You will need:
3 tbsp soy sauce
2 tbsp honey
1 tsp minced ginger
1 tsp minced garlic
2 tbsp water
0.5 tbsp corn flour or potato starch
Method:
Combine the soy sauce, honey, ginger and garlic in a saucepan and boil it over medium low heat until it starts lightly bubbling. In the meantime, combine the water and cornflour in a small bowl and whisk it well. When the sauce in the pan starts bubbling, pour over the cornflour mixture. Whisk them well until the sauce is well blended and thickens. (Do not over-thicken as it will be difficult to spread over the chicken later. The sauce should be still slightly runny). Remove from the heat and set it aside until needed to glaze your meats.
Korean style Corn on the cob
You will need:
4 x corn on the cob husk removed
Gochujang puree
1 lime quartered
Method:
Bring a large pan of water to the boil and cook for 6mins, drain. Finish under the grill or in a frying pans brushing with gochujang. This can be cooked directly on the barbecue.
How To Make Korean BBQ Chicken Skewers
Skewers are a great way to make the most of marinades and dipping sauces when you're cooking up a Korean BBQ. Here's how to put a batch together for your gatherings.
Immerse the skewers in some water (if using wooden skewers) for about 30 mins.
Place the chopped chicken pieces into a mixing bowl. Add the rice wine, some salt and pepper. Mix them well.
Set aside while other ingredients are being prepared (about 10 mins).
Remove the skewers from the water and pat dry with kitchen roll
Thread the chicken on divided over the 12 skewers
Pre heat your grill/frying pan with a small amount of oil.
Place the chicken skewers into the pan and cook them over medium high heat.
About 3 mins later turn the skewers around and start brushing your choice of sauce onto the chicken.
In about 2 minutes, reduce the heat to medium and turn the skewer over again and brush the sauce. Reduce the heat to low.
From here onward, continue to turn the skewers and brush the sauce on the skewers until the chicken is fully cooked and charred to your taste. Serve immediately.