We're excited to let you know that snack sized baby kiwi berries are now available at Morrisons - with a 150g punnet costing just £1.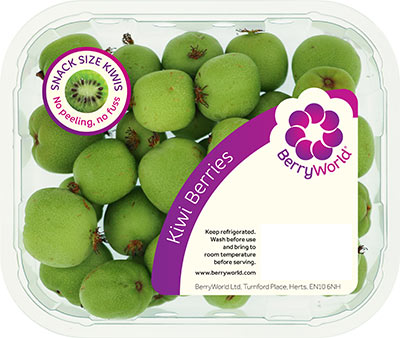 Grown in Herefordshire, the kiwi berries are the size of 1p coin and can be eaten whole without peeling.
Did you know...
Kiwi Berries (Actinidia arguta) were originally native to Japan, Korea, Northern China and the far east of Russia. They were first discovered by European botanists in 1843, but in recent times have been widely grown in New Zealand and Chile.
The Kiwi Berries – also known as the Northern Kiwi - look and taste like normal Kiwi fruit, but they have smooth and edible skins. The berries are high in nutrients, containing more Vitamin C and Beta-carotene than the regular Kiwi.
An 80g serving counts as 1 portion of your 5 a day
They are also high in fibre and low in calories, which makes them ideal for school and work lunchboxes or snacks.
The Berryworld British Kiwi Berries come in a 150g punnet costing just £1. They'll be available from September to October in all Morrisons stores throughout the UK (subject to availability) - as well as online at www.morrisons.com