Eat Fresh from Morrisons is our recipe box subscription service that helps you to make cooking from scratch a breeze.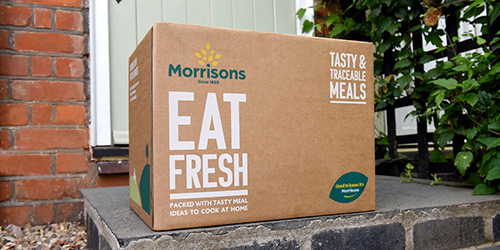 Try a Morrisons Eat Fresh delivery today.
Our convenient recipe box subscription service is really easy to use. All you need to do is tell us how many meals you'd like to order and whether you want them to feed two or four people, before picking the dishes you'd like to try. We'll then pack all the pre-portioned ingredients you need to cook your chosen recipes and deliver the inspiring meal kits to your door as often as you ask us to. You can choose from weekly, fortnightly or monthly deliveries, picking new recipes for each delivery.
Our Eat Fresh subscription service can be paused or cancelled at any time - you can also choose one-off orders 'as and when' if you prefer.
The recipe boxes are designed to give you a more creative option in the kitchen, especially if you're short on time but still want to eat well and cook from scratch. All the dishes available have a cooking time attributed to them, so you can plan your meals according to the time you have available - the majority take just 30 minutes.
Our Eat Fresh recipe boxes are ideal if you're trying new-to-you diet. From vegan dishes to those with less than 600 kcals, take a look at the selections below to see how Eat Fresh can help support your dietary choices.