Beetroot Soup (Borscht)
Borscht is a sour-ish soup that first warmed cockles in Eastern Europe (you'll certainly see it on many a menu when visiting Russia, Ukraine or Poland on holiday). Although sometimes made with cabbage, it's a big hit with beetroot fans and versions like this are the most popular variety. Originally cooked with pickled stems (the 'borscht' which names the dish), the soup is easy to prepare and extremely satisfying in the chilly months thanks to its moreish tanginess.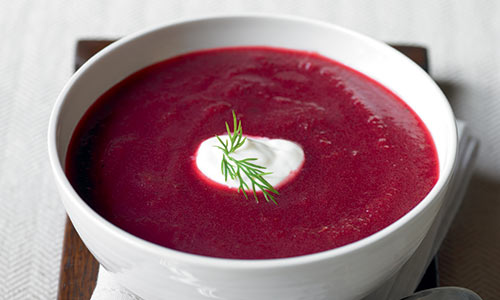 You'll need:
1tbsp sunflower oil
1 onion, peeled and chopped
2 celery stalks,trimmed and sliced
300g potatoes, peeled and diced
600g fresh beetroot, peeled and grated
1.5 litres vegetable stock
1tbsp fresh dill, chopped
salt and freshly ground black pepper
To serve: 100ml soured cream, fresh dill sprigs (optional)
Instructions:
Heat the oil in a large pan and gently fry the onion, celery, potatoes and beetroot for 5 minutes, stirring constantly.
Add the stock and bring to the boil.
Cover and simmer for 35 minutes.
Blend in a liquidiser until smooth, then return to a clean pan and warm through.
Stir in the dill and season to taste.
Serve the soup with a dollop of soured cream and a sprig of dill to garnish (optional).
Beetroot does tend to stain when being prepared, so if you don't want bright pink hands use a pair of disposable gloves. Scrub chopping boards immediately after use and wipe with fresh lemon juice – or better still use a glass or ceramic chopping board.
Rustic Beetroot Burgers
Here's a quirky burger option that makes a colourful change to the usual servings. Great with roasted sweet potato wedges – for a tasty twist dust your wedges with smoked paprika before baking.
You'll need:
400g lean minced beef
400g fresh beetroot, peeled and grated
50g fresh wholemeal breadcrumbs
2 tbsp creamed horseradish
1 egg
1 tbsp sunflower oil
To serve: 200g carrots, peeled and grated, 2 tbsp light mayonnaise, 2 tbsp Morrisons crème fraîche, 50g gherkins, 4 seeded bread rolls, 50g watercress
Instructions:
Place the mince into a mixing bowl. Add half the beetroot and all of the breadcrumbs, horseradish and egg then mix together well. Divide the mixture into 4 and shape into patties.
Heat the oil in a large non-stick frying pan and cook the burgers over a medium-low heat for 6-7 minutes per side until cooked through.
Meanwhile, mix the grated carrot with the rest of the beetroot, the mayonnaise, crème fraîche
and gherkins.
Slice the rolls in half horizontally , top the base with watercress, a cooked burger and a mound of the beetroot slaw. Top with the burger lid and serve with the remaining slaw in a separate bowl.
Beetroot is from the same family as chard, which has green leaves and white, orange or red stalks. You can eat the leaves
and stalks to use as a side salad or in the burger itself – just trim, wash and steam.
Pickled Beetroot
Pickling beetroot is a must, especially in autumn when that tart-kick always goes down a treat and adds a warming flavour to the side of any dish. Enjoy this one with added chilli heat and red wine vinegar flavour - great to serve in a warm sandwich, with warm salads or 'just like grandma used to do it' on a steaming plate of meaty pie and chips.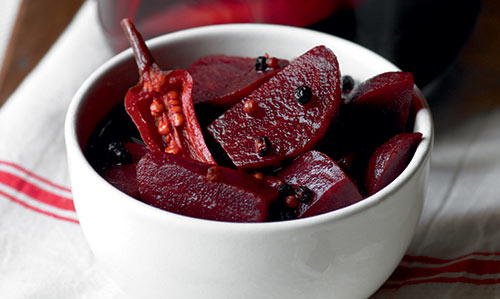 You'll need:
1kg fresh beetroot
700mlred wine vinegar
100g granulated sugar
1tsp salt
1tbsp coriander seeds
10 peppercorns
4 red chillies (or to taste), halved
Instructions:
Wash the beetroot, taking care not to break the skins. Trim the tops and remove any leaves, but don't cut into the flesh. Place in a large pan and cover with boiling water.
Bring to the boil, reduce the heat, cover and simmer for about an hour, until tender. To test if it is cooked, insert a sharp knife – when cooked
it should glide in easily, with no resistance.
Drain and allow to cool then rub the skins off – do this with disposable gloves if you don't want to stain your hands. Place the vinegar, sugar, salt, coriander seeds and peppercorns in a pan and heat gently, stirring until the sugar dissolves.
Wash and sterilise 2 x 1 litre Kilner jars in a warm oven for 15 minutes. Quarter the beetroots and pile into the jars with 2 chillies per jar, topping with the hot vinegar spice mix.
Seal and label. Leave to pickle for at least a week before using. Once opened keep refrigerated and use within 5 to 7 days.
Roasted Veg & Cheeseboard Tart
This one is great for using up leftovers (keep the recipe handy for after Christmas too), and lots of fun for those who like to mix things up every time they cook. Any combo of veg and cheese works so feel free to use up whatever you have, but we're big fans of beetroot for adding a sour hit and a good helping of colour.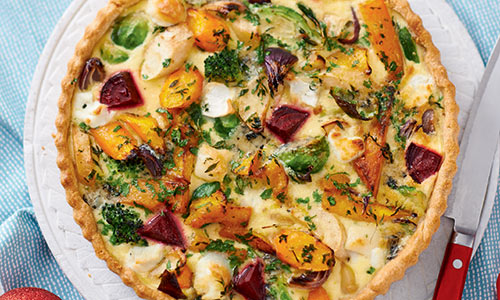 You'll need:
1 x 500g pack shortcrust pastry
250ml double cream
4 eggs
2 tbsp fresh parsley, finely chopped
1 tbsp fresh thyme leaves, chopped
450g leftover roasted vegetables (we used carrot, onion, broccoli, sprouts, beetroot and parsnip), chopped into 2cm pieces
100g leftover cheese (we used goat's cheese and blue cheese)
Instructions:
Heat the oven to 190°C/170°C fan/Gas 5. Roll the pastry out to 3-4mm thick and use to line a 24cm loose-bottom tart tin. Press the pastry into the edges and allow the excess to hang over the sides. Chill in the fridge for 10 minutes.
Prick the base of the tart with a fork and line with greaseproof paper. Fill with baking beans (or rice) and blind bake for 10-12 minutes. Remove the paper and beans and cook for a further 5 minutes. Cool.
Whisk the cream with the eggs and season well. Mix in the herbs.
Spread the roast vegetables evenly into the tart, pour over the egg mixture and crumble over the cheese. Bake for 20 minutes or until the filling has set.