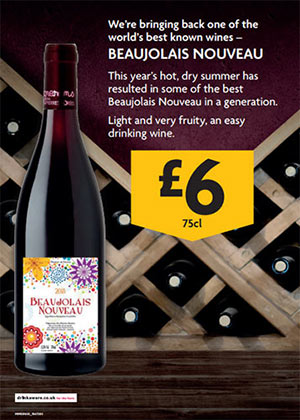 Did you know…
By French law, this wonderful wine can only go on sale at 12.01am on the third Thursday of November each year - Beaujolais Nouveau Day.
At the height of its fame in the 80s, top London restaurants would race each other to get the wine across the Channel first and serve it to City diners the same day. However as the 80s became the 90s, and tastes and fashions moved on, we fell out of love with Beaujolais Nouveau - shops stopped selling it and restaurants dropped it from their wine lists. However, this year's hot, dry summer has resulted in an extremely high quality crop of Gamay grapes which should produce some of the best Beaujolais Nouveau in a generation.
"We're expecting this Beaujolais Nouveau to be the best for many years. Its light fruity style is in line with what many wine drinkers are looking for today and so it's a perfect time to bring back a wine that many of our customers will still remember fondly from it's heyday in the 1980s."
Clive Donaldson, Morrisons Wine Sourcing Manager
What Does Beaujolais Nouveau Taste Like?
Beaujolais Nouveau is a vibrant purple-pink wine made from Gamay grapes that is extremely young – it goes into the bottle just six to eight weeks after harvest. This gives makes it a light, easy-drinking and very fruity wine with banana, strawberry dark cherry and pear drop flavours. Experts recommend that it is served slightly chilled to 13 degrees centigrade.

The dry light red style makes this a brilliant wine with lighter meats such as gammon or pork, cured meats or fresh youthful cheeses like Wensleydale.
The majority of Beaujolais red wine is made by a different method than most wines - called semi-carbonic maceration, which gives dry wines with good ruby purple colour and bursting with dark cherry fruitiness to the wines without the weight of tannin or astringency of other reds. Generally these are wines to drink young and can unusually for reds suit being lightly chilled. While deep in colour Beaujolais is low in tannin making this a red wine for those people who may not normally like reds.
Other Types Of Beaujolais Wine
Beaujolais AOP
The 'entry level' wines are the lightest fruity reds made from sandy soils in the south of the region.
Beaujolais Villages
Over time the top villages established a reputation for slightly deeper fuller flavoured Beaujolais and these wines were distinguished by adding the word 'Villages' to their name. The grapes for these wines are grown on granitic soils in the middle of the region.
Beaujolais Crus
At the top of the Beaujolais pyramid are the Beaujolais crus - 10 villages that established such an individual reputation and style that they were allowed to market the wines under their own name...
Fleurie - floral and elegant.
Julienas - floral, more red fruit than Fleurie.
Chiroubles - a little lighter with a 'cheerful' character.
Morgon - dark, firm and brooding (for Beaujolais). Can age well.
Moulin-a-Vent - the most structured and longest lived. Some can resemble good Pinot Noir.
Brouilly - rounder, softer and fruitier with a touch of spice.
Cote de Brouilly - from higher up on an ancient volcanic hill this is a little fuller than Brouilly with a more peppery finish.
Chenas - grown on pure granite this has darker fruit and mineral spark.
St-Amour - light and pretty
Regnie - medium weight and fruity
Many of these names such as Fleurie are familiar to customer on the UK who may not realise that they are Beaujolais.