Since November, we've been helping to provide meals for isolating kids who would normally receive free school meals. We've been working with schools to do this, and we're now increasing the capacity of our service whilst schools across the UK remain closed.
Delivery is free, and the cost of the box is covered by the school as part of the Government's free school meals programme. We've partnered with DPD to deliver the food directly to pupil's homes.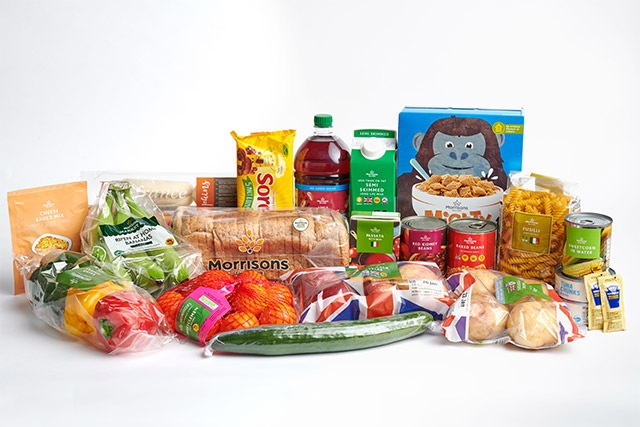 Each box will contain:
Wholemeal Bread Medium 800g
Morrisons Royal Gala Apples
Morrisons Ripen at Home Bananas 5 per Pack
Cucumber
Morrisons Baking Potatoes 4 Pack
Mixed Peppers x 3
Sweetcorn in Water 198g
Mighty Malties Cereal 625g
Savers Tuna Chunks 145g
Morrisons Cherry & Berry No Added Sugar Squash Double Concentrate 1.5l
Morrisons Long Life British Semi Skimmed Milk 1l
Fusilli 500g
Heinz Mayo Sachets
Morrisons Passata with basil
Delifrance Petit Pains 4 Pack
Morrisons Simmer Sauce Cheese Mix 30g
Morrisons Baked Beans 410g
Soreen Lunchbox Loaves 5 Pack
Morrisons Red Kidney Beans (400g)
Morrisons Sweet Clems
Please note, if any item is not available we will always provide a suitable substitute.
We've developed the boxes in partnership with our nutritionist Dr Hayley Marson, to ensure the items included are nutritious. Our Kids Meal Box provides enough food for one child to have five breakfasts and five lunches. We've also created a meal planner to help make the most of the box - you'll find it below.
Schools that want to find out more can follow the link below and place an order. Delivery is available nationwide. If you're a parent, please contact your school to place the order.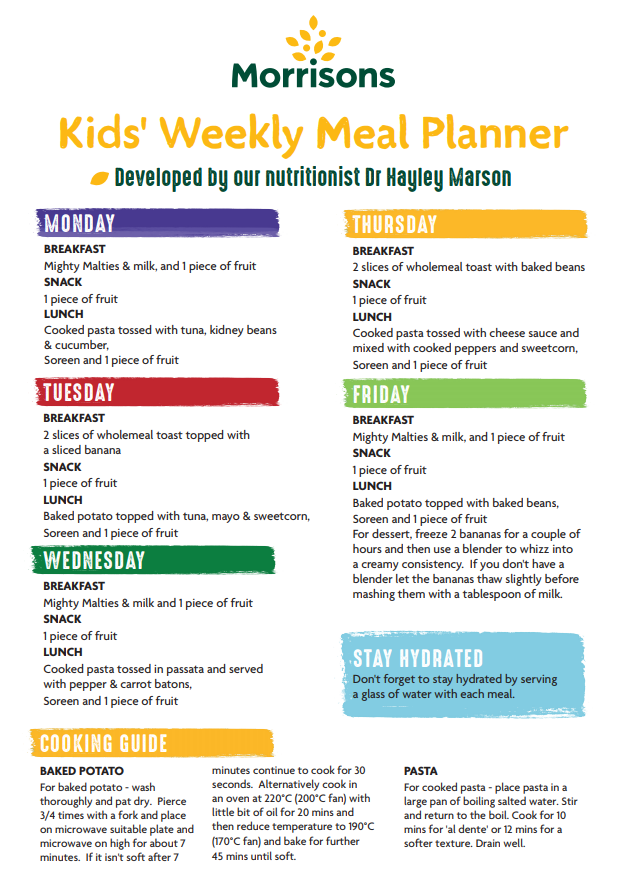 ---
Box Contents Prices
Prices checked on Friday 22/01/2021
---
| Description | No in box | Online Price |
| --- | --- | --- |
| MORRISONS MEDIUM WHOLEMEAL 800G | 1 | £0.49 |
| MORRISONS ROYAL GALA APPLES 6PK | 1 | £1.49 |
| MORRISONS RIPEN AT HOME BANANAS 5PK | 1 | £0.75 |
| MORRISONS WHOLE CUCUMBER | 1 | £0.45 |
| MORRISONS BAKING POTATOES 4PK | 1 | £0.45 |
| MORRISONS SALAD PEPPERS 3PK | 1 | £0.89 |
| MORRISONS SWEET CORN IN WATER 198G | 1 | £0.60 |
| MORRISONS MIGHTY MALTIES 625G | 1 | £0.79 |
| MORRISONS SAVERS TUNA CHUNKS IN BRINE 145G | 2 | £1.26 |
| M Cherry & Berry NAS Squash DC 1.5L | 1 | £0.99 |
| M' BRIT SEMI SKIM UHT MILK 1L | 1 | £0.90 |
| M' Fusilli 500g | 1 | £0.45 |
| MORRISONS PASSATA WITH BASIL 390G (in-store only) | 1 | £0.65 |
| DELIFRANCE PETIT PAINS 4 PACK (in-store only) | 1 | £1.00 |
| MORRISONS SIMMER SAUCE CHEESE MIX 30G | 1 | £0.25 |
| MORRISONS BAKED BEANS IN TOMATO SAUCE 410G | 1 | £0.30 |
| SOREEN LUNCHBOX LOAVES 5PK | 1 | £1.00 |
| MORRISONS RED KIDNEY BEANS IN WATER 400G | 1 | £0.50 |
| MORRISONS MARKET ST SWEETCLEMS 800G | 1 | £1.65 |
| | | £14.86 |