Homemade Christmas Card Garland
This easy-to-make garland is a great way to use up last year's Christmas cards.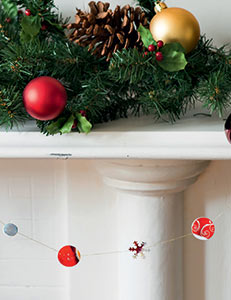 You'll need:
A craft punch or scissors
Old Christmas cards
String or thread
PVA glue
How to make these homemade Christmas decorations:
Using a craft punch or scissors to cut out the shapes of your choice.
Lay a long stretch of thread or string along the table.
Dab a spot of glue on the back of a card shape; slide it under the thread and place a similar shape on top to sandwich the thread between the two shapes.
Repeat the above steps until you've filled the length you require with shapes. Then hang and admire your handiwork.
Homemade Festive Felt Tree
These trees look sweet hung on a tree, or you can make them larger as a table decoration.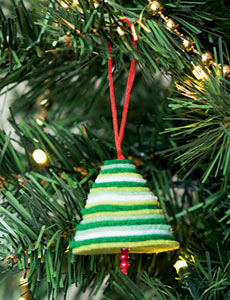 You'll need:
Sheets of felt in green and white
Scissors
Needle and thread
Beads
How to make these homemade Christmas decorations:
Cut a circle the size of a pencil end out of one of the sheets of felt.
Place your first circle on a different colour of felt and cut around it leaving a small gap of about 1mm.
Repeat this process, making sure your circle gets larger and larger, until you have a perfect tree shape.
Tie a knot in a piece of thread then push a needle and thread through the centre of each layer, starting with the biggest.
Once all your layers are threaded add a shiny bead for a star and tie a tight knot to secure the thread. Make sure you leave enough of a loop to hang it up.

Safety first: If the kids are making these decorations, help them with the cutting out and don't leave them unsupervised.
Paper Trees
This delicate tree decoration stands out from the crowd and is so easy to make.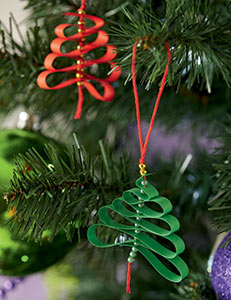 You'll need:
Coloured A4 paper
Scissors
Needle and thread
Beads
How to make these homemade Christmas decorations:
Cut a 1cm strip of paper along the longest edge of an A4 sheet.
Thread a needle and tie a knot in the end of the thread. Add 2 or 3 beads onto the thread as the tree trunk.
Pass the needle and thread through the end of the paper strip and then add a bead to the thread after the paper.
Bend the paper back on itself and push the needle through the paper once again.
Thread on another bead.
Repeat step 4 ensuring the paper bends get smaller each time until they have formed a tree shape.
Add a final bead and tie a knot to secure it. Finally, tie a loop from the remaining thread to use for hanging up on your tree.
Reindeer Characters
These little Christmas cutiesare fun dotted around the house or as decorations on the dinner table.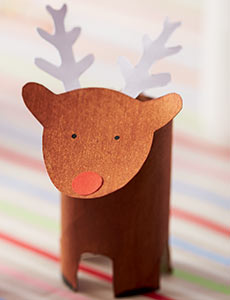 You'll need:
Cardboard toilet roll
Scissors
PVA glue
White paper
Brown paint
Black pen
Red paper
How to make these homemade Christmas decorations:
Cut one third off the top of the toilet roll. Then, using the opposite end, cut four rough squares to form the legs.
Draw the shape of the reindeer's head on the off-cut and also a small square for the reindeer's neck then cut both pieces out.
Paint the head, body and neck brown and when dry draw hooves on the body and eyes and a nose on the face with a black pen (or a red nose for Rudolph!).
Cut antlers and a tail from the white paper. Glue the neck to the head and then both to the body. Finally, stick on the antlers.
DIY Snow Globes
Make your own magical ornament. Kids will need some adult help with this one.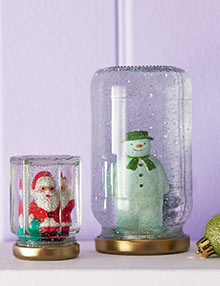 You'll need:
A jam jar with lid
Glitter
A Christmas toy
Plasticine
Superglue
How to make these homemade Christmas decorations:
Start with a clean and label-free jar.
Get an adult to superglue your chosen toy to the lid of the jar, then leave it to dry for an hour.
Place a teaspoon of glitter in the jam jar and fill to the top with cold water.
Over the sink – this bit is messy – place the lid on the jar and screw it tight. Some water will spill out at this point but don't worry: this way you'll be left with plenty of water but no air bubbles.
Get an adult to make sure the lid is on really tight.
Turn over and shake to your heart's content – and let it snow...
Instead of superglue for this one, try pressing the toy into plasticine to secure it to the lid
Paper Pinwheels
These paper pinwheels will add an exciting twist to your tree this year.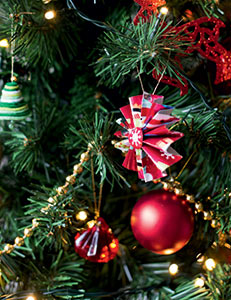 Coloured paper or wrapping paper of your choice
Scissors
String or thread
Tape or glue
Cut a piece of paper about 6 x 21cm (the width of an A4 sheet).
With the paper sitting portrait format in front of you, fold the bottom edge up by 1cm and continue in a concertina fashion until you reach the end.
Loop a bit of string or thread around the middle of your paper 'concertina' and tie securely.
Fan out each edge to create your pinwheel and secure with tape, glue or staples.
Add a circle of a contrasting paper to the front to cover the centre.
This is a great way of using up any leftover bits of wrapping paper