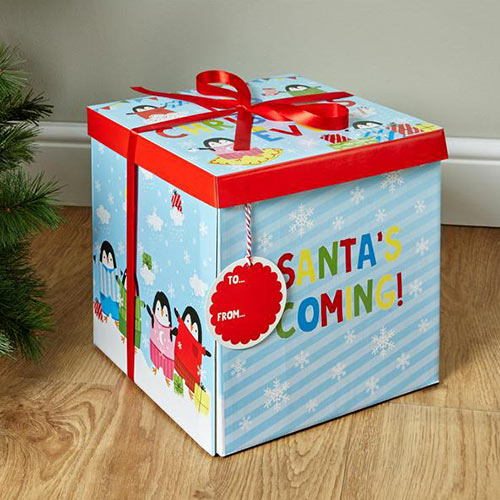 You could decorate old shoe boxes, upcycle an old removal box, buy a personalised chest, fill an old picnic hamper or use a wooden crate. At Morrisons, you can buy a fun ready-made Christmas Eve Box to put everything into.
Christmas Eve Box Origins
Christmas Eve boxes are believed to have stemmed from the German tradition of opening presents on Christmas Eve. It's a fun way of making more of a fuss of the things you might buy or enjoy as a family anyway on 24th December, and keeping the kids smiling as they wait for Little St Nick to arrive. You could make up a box just for the grown-ups too, with chocolates, gin miniatures, small bottles of fizz and other little treats.
Christmas Eve Box Ideas
Here's what to put in a Christmas Eve box to put a smile on their faces on 24th December:
New pyjamas & slippers - take a look at our Nutmeg range in store
Cookies - bake these tasty Reindeer Recipes for your box
A Christmassy film DVD - find 'Elf', 'The Grinch' and more in store
Sweets & treats - like this fun Cadbury Santa
A book - browse our range in store
Hot Chocolate - find their favourite flavour online
A new Christmas tree ornament - choose something special in our online decorations shop
Santa's magic key - how else will he get in if you don't have a chimney?
What Do You Put In A Christmas Stocking?
Last-minute Christmas Eve Checklist:
Make a final check that you have everything you need for the next few days. Prepare the fresh veg for tomorrow's lunch and store it in the fridge overnight to save time on Christmas morning.
Lay the table (and make last-minute decorations if you've forgotten any)
Re-read all the timings for tomorrow - check our turkey tips
Chill the fizz and white wine
Charge your phone and camera battery and clear the camera memory
Top tip: Open the Christmas Eve Box at 5pm - that way, the kids have plenty of time to get snuggled up in their new PJs in front of a Christmas film with a mug of hot chocolate - before leaving Santa a mince pie and heading up to bed.

Check our Christmas opening hours in case you need to do a last minute shop >>