Shoppers will have dozens of opportunities to support young cancer patients when doing their shopping this World Cancer Day. 'Every Pack Gives Back' as the campaign is known, raises money for Morrisons' charity partner, CLIC Sargent, the UK's leading cancer charity for children and young people.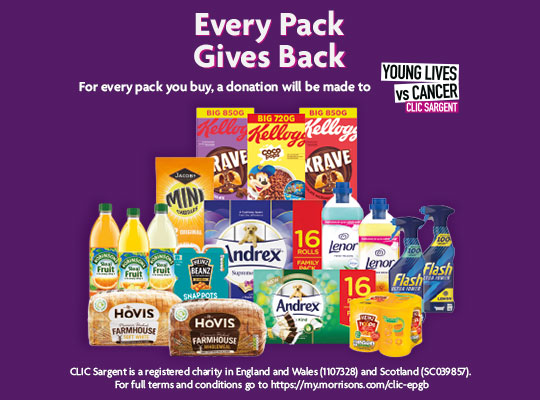 From 20th January until 25th February, a bumper 144 special products from 21 Morrisons suppliers will be on sale in-store and online to mark World Cancer Day. Suppliers include Cadbury, Kelloggs, Walkers, Kenco, Yorkshire Tea and Britvic with many of these being found on the seasonal aisle until 9th February. For every pack of selected products sold in Morrisons stores and online, between 2-20p will be donated by various brands to children facing cancer.
This is the 6th multi supplier Every Pack Gives Back campaign since Morrisons first partnered with the charity in 2017 and it is the biggest yet. Decorated in the signature Every Pack Gives Back purple and CLIC Sargent's logo, the seasonal aisle makes a visual impact on shoppers, with the CLIC Sargent-benefitting products taking over the store.
This year, the supermarket has new brands on board as well as seasoned supporters. For the first time, health and beauty products are included in the campaign with VO5, Alberto Balsam and Simple products on offer as well as the first toilet paper line to support CLIC Sargent from Andrex. There are also products for your home from Fairy, Lenor, Flash and Fabreze, to name just a few.
Every Pack Gives Back campaigns in Morrisons, in aid of CLIC Sargent, first started in May 2018 and over £1.4 million has been raised, thanks to supplier involvement.
Morrisons have been in partnership with CLIC Sargent since 2017 and have so far raised £10.6 million. The latest Every Pack Gives Back campaign launches just before the partnership enters its 4th and final year with the aim being to raise £15 million by February 2021. The final year of fundraising will open a new CLIC Sargent Home from Home in Manchester – a place for families to stay while their child is receiving cancer treatment nearby.
World Cancer Day
This World Cancer Day (4 February) CLIC Sargent will be highlighting the disruption a diagnosis has on the lives of young cancer patients, including not being able to see their friends or putting their education on hold - it can turn up at any time. That's why CLIC Sargent is here to stop it destroying young lives. As well as taking over the store with the EPGB products, CLIC Sargent volunteers will be in Morrisons stores across the country for World Cancer Day bucket collections between 1 -4 February. Limited edition World Cancer Day wristbands will also be on sale, for a suggested donation of £2, raising money for young lives facing cancer.
Support from Morrisons
When cancer strikes young lives, CLIC Sargent helps families limit the damage cancer causes beyond their health. All the funds raised from the Every Pack Gives Back campaign will help to support thousands of families facing a cancer diagnosis each year.
Holli Kellett, Morrisons Fundraising Lead, from CLIC Sargent said:
"We're delighted to occupy the seasonal aisle at Morrisons for the second World Cancer Day Every Pack Gives Back. It's wonderful to walk along the aisle and take how many products are supporting CLIC Sargent this year- a huge thank you to all suppliers for their generosity. Every Pack Gives Back gives customers the chance to support young lives facing cancer just by doing their weekly shop."
The promotion only applies to designated packs. Full details, including terms and conditions can be found here.