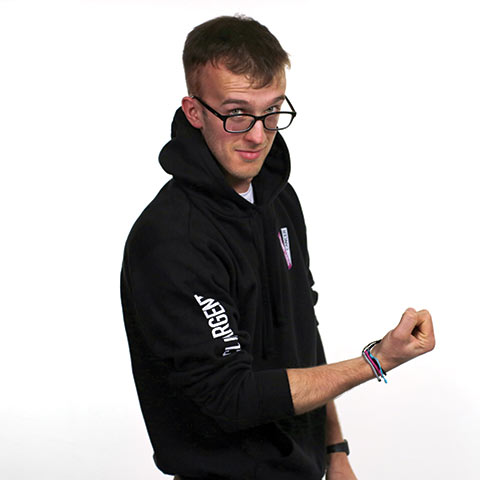 "I can't really remember much of my first tumour," said Tom. "I just remember my mum and dad showing me a video of me as a three year old screaming all the time.
"Mum and dad took me to all sorts of specialists. They scanned my head and found a tumour which stretched from the back of my left eye to the bottom of my brain stem. I had an operation, which the doctors said there was a 50/50 chance whether I would survive – they also warned that if I did survive, there would be a chance that I wouldn't be capable of doing anything. They removed 80% of the tumour thankfully.
"Two years ago, I proposed to my girlfriend Amy and she said yes. Then, two months later, I collapsed and had two seizures. I went to hospital and they found another brain tumour - not the best timing in the world. It was horrible to think I'd have to go through hell."
Fortunately the surgery, radiotherapy and chemotherapy were successful. CLIC Sargent's social worker Hannah was there to support Tom.
"The support I had from CLIC Sargent was just fantastic. You have friends and family, but it's nice to talk to someone who isn't in your circle. To have that time to get everything off my chest and just talk about me and what was happening was really, really helpful.
"She'd help with my paperwork, so things like the hospital, benefits and charities. To have her to sit down and do that with me, that helped a lot. She was there for my wife and family as well."
Tom and his family are supporting CLIC Sargent's World Cancer Day campaign. Supporters can donate £2 to get their own Band Against Cancer wristband to raise vital funds and awareness.