Crispy Brioche Croutons
Made using leftovers from our Big Cheeseburgers, these croutons are amazing in salads, on top of soups, pastas .. anything you want to add a little crunch to.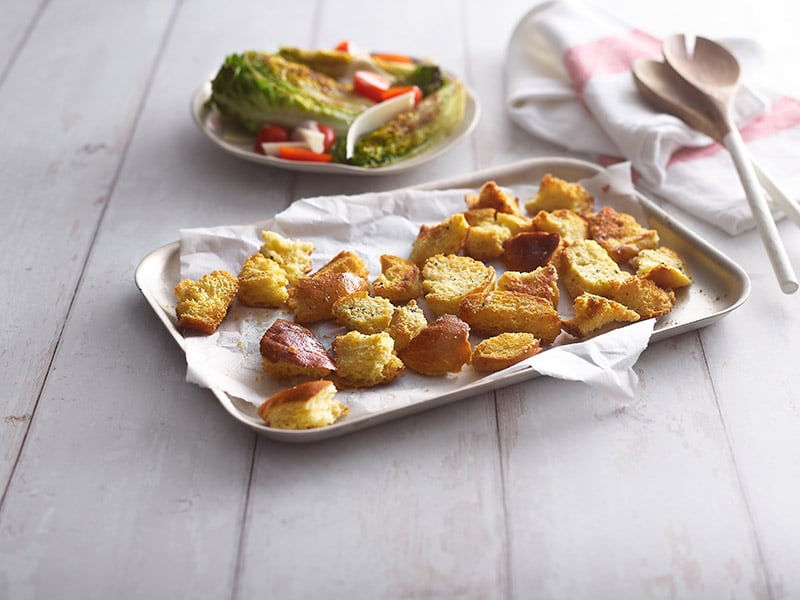 Ingredients
2 X Brioche Burger Buns
50ml Olive Oil
Salt and Pepper to Taste
Equipment : Baking Tray
Heat the oven to 200'c
Tear the brioche buns into chunks (3 - 5 cm or so) Tip the chunks into the baking tray. Drizzle over the olive oil and season with salt and pepper. Give the tray a good shake so the bread is coated. Bake in the oven for 10 minutes or until crisp and golden.
Remove from the oven and allow to cool.
Try them in our delicious Crispy Salad recipe below:
Serves 1 as a main, 2 as a side.
Ingredients
1 X Little Gem Lettuce
Brioche croutons (see recipe above) - handful pp
100g baby plum tomatoes
2 x slices of cheddar cheese
½ red onion
2 x rashes of bacon
1 Egg
10g mayo
5ml olive oil
Juice of 1 lemon
Bring a saucepan of water to boil and boil the egg over a medium heat for 7 minutes to hard boil. Remove from the water using a slotted spoon and place in a bowl of cold water (this stops the egg cooking more and prevents the egg from going gross and grey)
Remove the egg from the cold water and tap all over with a teaspoon to crack the shell. Use the teaspoon to remove the shell by scooping the egg away from the shell, it should come away very easily. Slice the egg into ¼.
Heat a frying pan over a medium heat. Fry the bacon until hot and crispy. Carefully remove from the pan and set aside on a plate with some kitchen paper to remove any excess grease and slice into strips.
Mix together the mayonnaise, olive oil and lemon juice. Loosen with a little water to make a lovely dressing and season to taste.
Slice up the tomatoes, slice the egg into 1/4 , chop the bacon up, slice up the lettuce and tear up the cheddar slices. Toss these all together with the croutons. Drizzle over the dressing, season to taste and dig in.