Types of Pinot Grigio
Clive: Pinot Gris and Pinot Grigio are the same grape, but the wines have traditionally been made in different styles. In northern Italy the tradition was always to pick the grapes early before they developed too much of their pinkish grey colour - creating a light crisp unoaked wine with green apple and pear flavours. In Alsace where Pinot Gris is also grown, it's left to fully ripen in the long and dry autumns to produce a richer full bodied white wine with stone fruit and spice notes.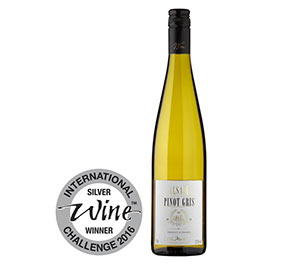 Pinot Gris is a tad punchier than Pinot Grigio - fruity and round with a note of honey and spice.
The difference in the naming of the wine has really been carried over when the grape has been grown in other countries such as Australia, New Zealand and USA - Pinot Grigio normally implies a crisp medium bodied unoaked style while Pinot Gris normally implies a richer rounder wine, often with a touch of sweetness.
Growing The Grapes
Mark: The best climate for Pinot Grigio seems to be a relatively sunny but cool one. The grape excels in the alpine foothills around Trentino, where our Morrisons The Best Trentino Pinot Grigio comes from, or in Eastern Europe where our Morrisons Pinot Grigio hails from.
"The crucial word here is Trentino. The cool climate of this foothills-of-the-Alps region makes the wine dramatic and brings a bite of freshness to the finish."
Mathew Jukes 200 Best Value Summer Whites 2018, Daily Mail
Wine Tasting Notes
Clive: Pinot Grigio, with its soft round apple and peach flavours, has become very popular as it is generally unoaked and lighter than Chardonnay (its cousin) but less taut and acidic than Sauvignon Blanc.
The wine is widely grown in the same area as and has similarities to Glera, the grape used to make Prosecco. Its apple and pear flavours will therefore be familiar to many regular fans of 'fizz'. The unoaked crisp style is also similar to some other Italian white wines such as Soave or Gavi which those new to Pinot Grigio may be drinking already. The fuller, 'rounder' flavours would appeal to those looking for unoaked Chardonnay styles.
Morrisons Pinot Grigio "9/10"
The Best Wine in the Supermarkets 2018, Ned Halley
Pinot Grigio Pairings
Mark: The lighter, crisper Pinot Grigio wines are best served chilled and consumed young. Classic Alsace Pinot Gris is good in its youth, but can age beautifully if carefully stored.
With its medium weight and crisp unoaked style, Pinot Grigio makes an excellent food wine with the relatively subtle aromas and flavours allowing the food to shine. My steer is to try it with white fish, salads or creamy pasta.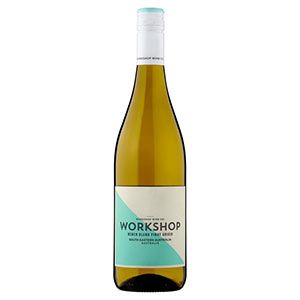 Having our very own Workshop Wine Co. means we can work directly with growers to craft wines that are true to their origin. This modern Pinot Grigio is fun and fruity with apple and pear flavours, subtle creamy texture and real finesse on the finish.
And if you like spicy, Asian-inspired dishes, wines with a trace of sweetness such as Alsace Pinot Gris or New Zealand Pinot Gris / Grigio work really go well. Pinot Gris also works brilliantly with rich creamy cheeses such as Brie, Camembert or Munster.
Dishes To Try With Pinot Grigio