Paella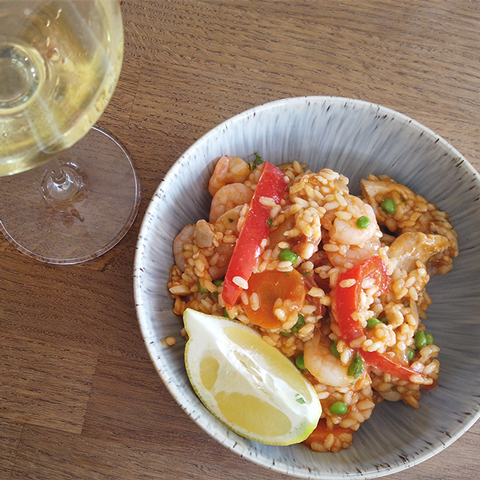 Ingredients
1 carrot chopped
1 red pepper chopped
1 onion diced
3 cloves of garlic finely chopped
4 boneless chicken thighs
100g chorizo chopped
Olive oil
1 heaped tsp paprika
750ml boiling water (plus extra in case rice absorbs quicker)
Stock cube
1 - 1/2 tsp tomato purée
400g paella rice
300g prawns
150g peas
10g Flat leaf parsley chopped
A whole lemon cut to segments
Method
Coat the paella dish with oil and then place the chicken, chorizo, carrot, onion and garlic into the pan.
Let them cook for 5 minutes before adding the red pepper. After a couple of minutes add a heaped tsp of paprika and then cook for another 5 minutes.
At this point add the tomato purée and stock cube. Turning all the above ingredients, now add the rice.
Pour the rice over the entire dish and turn in the juices for a few minutes so the rice absorbs the flavours.
Now add the water to the pan. The technique you want to use is to move the ingredients from the centre to edge of pan and then edge to centre.
Turn the heat down to a simmer to let the water absorb into the rice to soften for 10 minutes. Keep an eye on the dish and stir regularly (centre to edge, edge to centre) be prepared to add more water
if the rice absorbs too quickly. If the rice hasn't sufficiently softened then simmer for longer and keep tasting until there's bite in the rice and not crunch.
At this point add your prawns and peas to the mix and stir in for another 5 minutes to warm both through thoroughly.
For the finishing touches take the flat leaf parsley and sprinkle over the dish and then squeeze a segment of lemon over the dish turning both in. Place a few more segments of lemon into the dish and serve.
Simple and delicious.