These One Pot Meals Are Made For Wonky Veg...
These one pot meals taste great whether you use our regular or wonky veg - it all looks the same when it's chopped, diced and sliced after all. Availability may change from season-to-season, so please note that some recipes on our website may not remain live if certain wonky vegetables are out of stock. If you shop in store, take a look at our ingredients and instructions below.
Beefed-up Casserole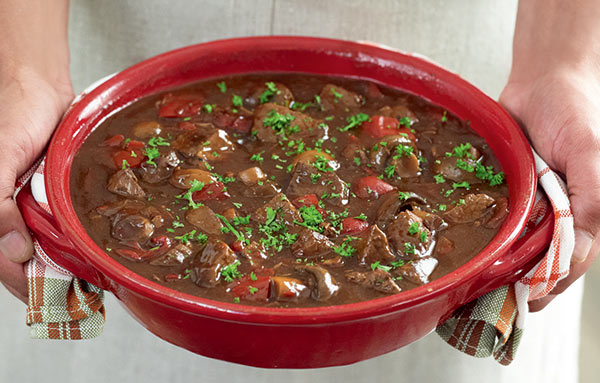 Wrap yourself in a blanket of beef stew comfort food when the weather turns colder, and use wonky veg ingredients that look every bit as delicious as 'normal' veg in the pot when in season.
Try the recipe and buy ingredients >>
You'll need:
2 tbsp sunflower oil (or replace with spray)
800g braising steak, cubed
400g shallots, peeled
2 wonky peppers, deseeded and diced
400g mushrooms, wiped, and halved if large
2 tbsps tomato purée
500ml ale
400ml beef stockmade from a cube
2 tbsps Bisto Gravy Powder
400g wonky carrots , peeled & chopped
Instructions:
Heat the oil in a large frying pan and add the braising steak. Stir fry over a very high heat to seal the meat on all sides then add the shallots, peppers and mushrooms. Cook, stirring, for 2 minutes.
Mix together the tomato purée, stock and ale and pour over the meat and vegetables.Bring to the boil then reduce the heat, cover and simmer for 1 hour until cooked through and the meat is tender.
Mix the gravy powder to a thin paste with a little cold water and add to the stew. Continue stirring it in until the gravy thickens.
Divide the stew into 2 batches – half can be sprinkled with parsley and eaten at once with mashed potato and the other half can be cooled then frozen for a later date.

Chunky Chilli Casserole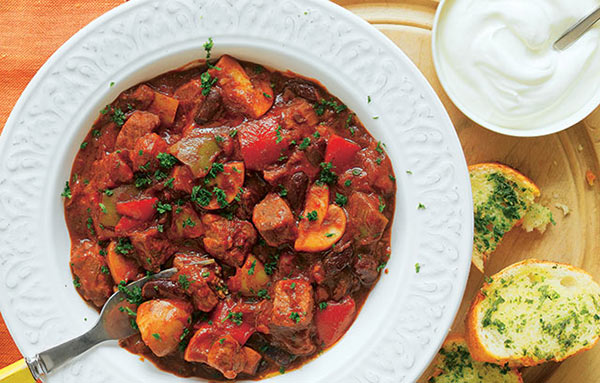 Chilli with a difference, this 'stew' uses cubed braising steak and chunky veg (try our wonky peppers when in season) for a satisfying and filling chilly weather dish.
Try the recipe and buy ingredients >>
You'll need:
2 tbsps olive oil (or replace with spray)
1 wonky onion, peeled and chopped
450g braising steak, cubed
3 wonky peppers, deseeded and diced
220g mushrooms, wiped and quartered
1 tsp Morrisons chilli flakes
1 tsp Morrisons cumin seeds
2 tsps Morrisons ground coriander
1 Knorr beef pot
400g chopped tomatoes
420g red kidney beans
8 slices garlic bread
20g parsley
Instructions:
Heat the oil in a pan and add the onion and braising steak until the meat is sealed on all sides.
Add the peppers, mushrooms, chilli flakes, cumin seeds and ground coriander. cook, stirring, for 2 minutes then add the Knorr Infusion Pot, tomatoes and 400ml boiling water.
Bring to the boil, reduce the heat, cover and simmer for 1 hour.
Add the kidney beans and continue to cook for a further 5 minutes.
When ready to serve, sprinkle parsley over the chilli if desired and serve hot with 2 slices of garlic bread and sour cream.

Cumberland Sausage Traybake
This is a very simple supper dish that we're sure will become a family favourite. Use apples instead of pears if you like and experiment with other vegetables.
Try the recipe and buy ingredients >>
You'll need:
1 pack Cumberland sausages
1 kg baby potatoes
450g wonky carrots, peeled and sliced on the diagonal
2 tbsp olive oil (or replace with spray)
2 red onions, peeled and cut into wedges
2 Conference pears, peeled, quartered and cored
½ jar honey mustard sauce
4 sprigs fresh thyme
Instructions:
Heat the oven to 200°C/180°C Fan/Gas 6.
Mix the pack of sausages, the potatoes and the carrots with 1 tbsp of the olive oil and then arrange in a large roasting pan.
Bake in the oven for 15 minutes. Remove from the oven and toss well.
Toss the red onion and pear quarters in the remaining oil and add to the pan. Spread the ingredients so there's an even mix across the pan.
Drizzle the sauce over and return to the oven for 20-25 minutes until cooked through, bubbling and golden.
Serve hot, garnished with fresh thyme sprigs (optional).