The new move will apply to all our whole standard-size cucumbers, having listened to customers
who say reducing plastic should be one of our top priorities.

Cucumbers have typically been sold in plastic to improve life in the fridge and in the supply chain. The plastic layer serves as an extra 'skin' to prevent the veggie's dehydration, which is important because they are typically more than 90% water.

However, during the British growing season from March to October, where cucumbers are very quickly transported from farm to store, we believe there will be enough natural shelf life for customers without any need for packaging. The move does not apply to half cucumbers, which would see a dramatic reduction in shelf life if plastic packaging was taken off.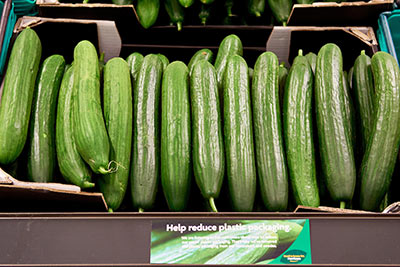 "We've listened to customers concerns and we are doing what we can to remove plastic packaging. While plastic can serve a purpose we believe this move will remove it from the environment without leading to food waste."
Richard Hatherly, Senior Buying Manager for Salads at Morrisons

Find out more about how we're working to reduce plastic waste >>