Featuring classic dishes you'll want to make again and again, as well as ideas for creating new accompaniments to your dishes such as homemade coleslaw and onion gravy, take a look at the inspiration below for a few ideas to get you started. Created from our chefs Jon and Rich's kitchens, tuck in and enjoy.
You'll find pasta dishes that are sure to go down a treat at the dinner table, as well as treats like burgers and slaw to tuck into. In this blog post, you'll find plenty of inspiration to get you cooking with your Vegetarian Essentials Food Box from Morrisons.
Get cooking and enjoy.
Veggieballs with pasta and tomato sauce
A classic dish, tuck into this tasty recipe for veggieballs in a tomato sauce served with pasta.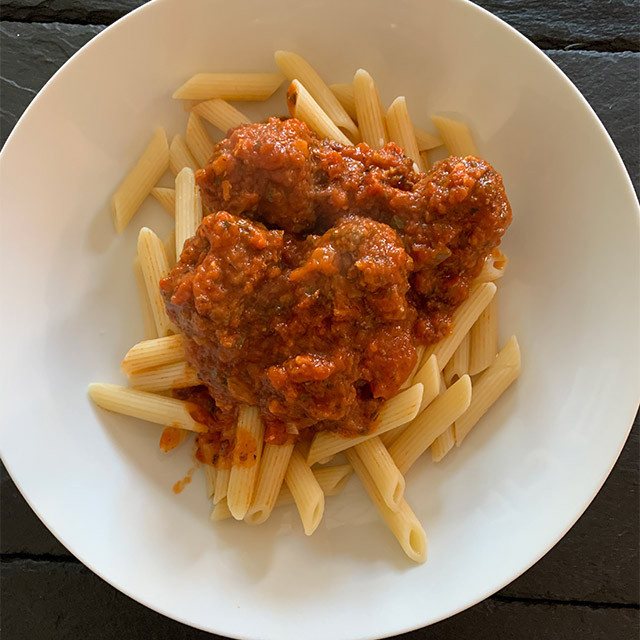 Serves 4
Ingredients
1 Onion
400g Meat-Free Mince
300g Pasta
350g Tomato and Basil Sauce
Method
Finely chop the onion and mix it into the mince.
Mix well and shape into 20 balls.
Fry the balls evenly on all sides, then add the sauce and simmer until they're cooked through.
Cook the pasta as per pack instructions and serve with the veggieballs and sauce on top.
Spicy Veggieball Stuffed Pittas
With crunchy homemade coleslaw and garlic mayo, this recipe for spicy veggieball pittas is a real treat.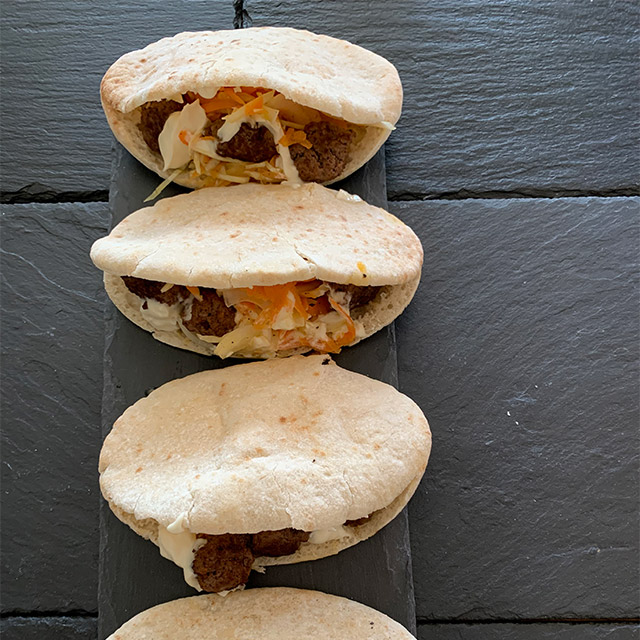 Serves 4
Ingredients
4 Pitta Breads
200g Meat Free Mince
½ Onion
2 Carrots
¼ White Cabbage
1 Lemon
40ml Olive Oil
1 tsp Chilli Powder
50g Mayo
2 Cloves Garlic
Method
Firstly, make the garlic mayo by finely chopping the garlic and mixing it with the mayo. Set this aside for later.
Next, make the coleslaw. Slice the onion and cabbage, grate the carrot and mix it all together with the olive oil and the juice of 1 lemon.
To make the veggieballs, mix the meatless mince with the chilli powder and form into 12 balls.
Fry them in a little oil over a moderate heat until thoroughly cooked through.
Spoon into each pitta some coleslaw, 3 meatless balls and top with garlic mayo.
Veggie Burgers and Slaw
Enjoy this classic dish with homemade coleslaw.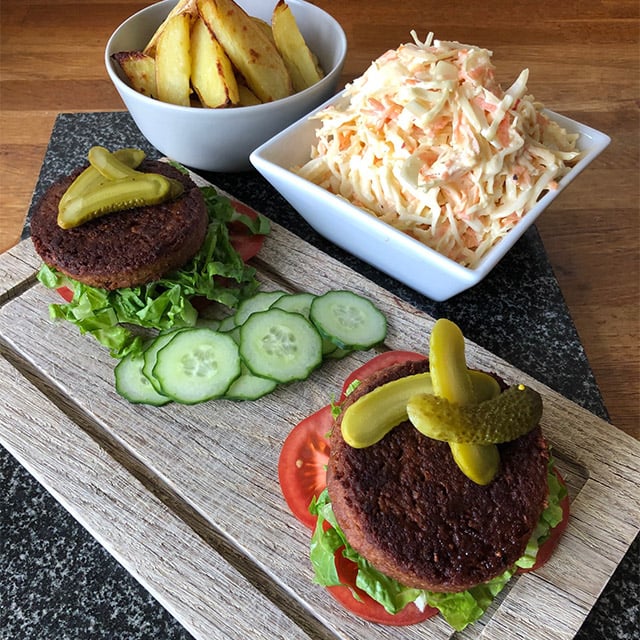 Serves 4
Cook Time: 25-30 minutes
Ingredients
4x Veggie Burgers
190g Cabbage (Shredded as finely as possible)
1x Carrot, grated (about 90g)
1x Apple, grated (about 80g)
1x Onion (about 80g)
150g Natural Yoghurt (you can use mayonnaise as an alternative)
Salad (shredded lettuce, sliced tomato, sliced cucumber, gherkins)
Cheese slices (Optional)
Method
Finely slice the cabbage and onion, then grate the apple and the carrots and mix with the natural yoghurt.
For a bit extra pep, add a tablespoon of vinegar and/or a teaspoon of mustard.
Cook the veggie burgers to packet instructions.
If you want to serve with chips, microwave 2-3 potatoes for 6-7 minutes and cut into chips, spray or brush on a little oil and season with a little salt.
Bake the chips in the oven for 20 minutes till golden brown and crispy.
Pitta Pizzas
Quick and simple, take a look at this twist on a classic pizza.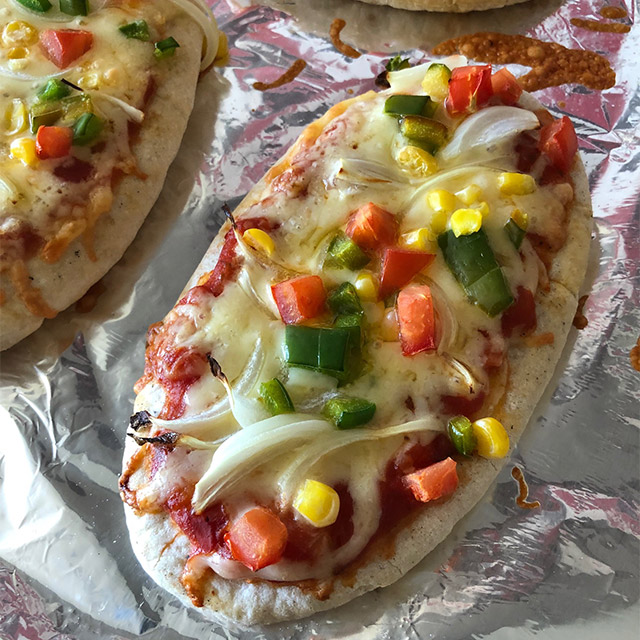 Serves 4
Cook Time: 20 minutes
Ingredients
4x Pitta Breads
80g Tomato Pasta Sauce
60g Grated Cheddar Cheese
Any Extras you may have for toppings, eg:
Sweetcorn
Peppers
Fresh tomatoes
Onions
Method
Preheat the oven to 190oc.
Bake or toast the pittas - cook both sides.
Place a tablespoon of sauce on each pitta and spread out.
Top with grated cheese, then sprinkle over garnish, such as peppers, chopped fresh tomatoes, sliced onions or anything you fancy.
Bake in the oven at 190oc for 10-15 minutes till bubbling and golden brown.
Serve with salad for a light lunch or they're great as a snack!
Vegetarian toad in the hole with onion gravy
A classic dish that's a great way to enjoy veggie sausages.

Ingredients
1 Pack Meat-Free Sausages
140g Plain Flour
2x Eggs
175ml Semi-Skimmed Milk
2x Onions
500ml Stock
30g Flour (for the onion gravy)
Method
Preheat the oven.
Add the oil to a pan and colour your sausages. Make sure you use a pan that you can later safely use in the oven.
In a mixing bowl, beat the eggs with the milk and add the plain flour to make a batter.
Pour the batter over the sausages and put the pan in a preheated oven and cook for 30 minutes.
In a clean pan, add the onions and a drizzle of oil and slowly cook until they're caramelised and soft.
Make up the stock, then add a spoonful of flour to the onions and stir until well coated, then add the stock a little bit at a time
Keep adding stock until the gravy is thick and glossy, you can add a little sugar or a touch of Henderson's Relish here if you like. Taste and add salt and pepper if needed.
Serve the toad in the hole with lots of gravy and mash and peas.
Vegetarian Sausage and Bean Casserole
Warming and delicious, tuck into a tasty casserole.
Serves 4
Cook Time: 35-40 minutes
Ingredients
1 pack Meat Free Sausages
1 400g tin Baked Beans
2x Carrots (180g)
2x Onions (190g)
2-3x potatoes 120g
2 tsps Smoked Paprika
50g Tomato Puree (If you don't have any tomato puree you can use 2-3 tablespoons of tomato pasta sauce)
400ml Vegetable Stock
Method
Finely chop the onions and carrots, add a little oil to a pan and add the sausages and cook until they're browned on all sides.
Remove the sausages and cut in half and place back in the pan. Add the vegetables and cook till softened.
Add the tomato puree and the smoked paprika (or any spice mix like chili powder).
Add the stock (if you don't have stock, you can add 400ml of water) and bring to the boil and leave to simmer for about 30-35 minutes until the sauce has thickened.
For quick and easy potatoes, pop the potatoes in the microwave and cook for 5-6 minutes on full power.
Preheat the oven to 190oc, once the potatoes have been in the microwave cut into chunks and brush with a little oil and season with salt and pepper, then place on a baking tray and roast for 20 minutes.
Serve the casserole topped with the crispy potatoes.
Savoury Vegetarian Mince and Potatoes
A classic dish that's sure to go down a treat, try this dish served with your favourite green veg.
Ingredients
500g Meat Free Mince
1 Onion
1 Carrot
3 Large Potatoes
500ml Stock (1 cube)
10ml Henderson's Relish
Method
Cut the potatoes into 2cm cubes, toss them in oil and spread them out on a roasting tray and roast at 200 degrees for 20 minutes or until golden.
Meanwhile, dice the onion and carrot.
In a saucepan, brown the vegetarian mince for 5 minutes before removing from the pan and setting aside.
In the same pan that you cooked the mince in, cook the onion and carrot in a little oil over a moderate heat for 3 minutes.
Add the mince back to the pan along with the stock and Henderson's Relish.
Season with salt and pepper and simmer until most of the liquid has cooked away.
Serve with a green veg of your choice.
---
---