This Halloween, we've launched our roulette style Trick or Treat Pizza, in which some slices feature a super spicy hellish ghost chilli sauce, while some remain the heavenly tasting pizza we know and love.
Making a superb Halloween party game, you can test your guests' nerves, will they choose a super sizzler of a slice? Or will they be rewarded with a tasty cheesy pizza delight? There's no way to tell which slice is which, you simply have to be brave and dive straight in.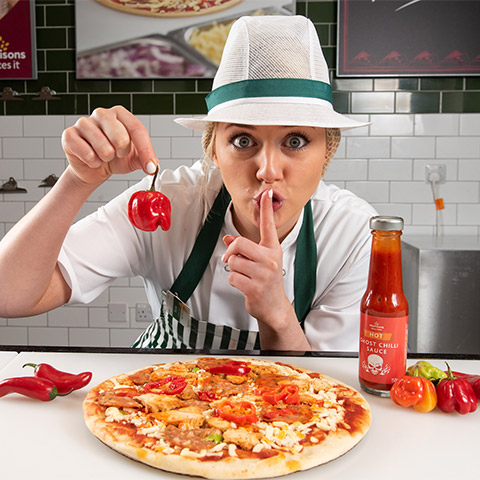 The chillies used measure over 1 million units on the Scoville heat scale, which is 200 times spicier than Tabasco Sauce. The hidden spicy slices also include Scotch Bonnet chillies, which come in between 100,000 and 350,000 on the spicy scale. It's so spicy, we've even put a warning label on the front.
The slices that don't feature this hellish concoction will have flavours such as jalapeño pepperoni, spicy chicken and cheese, so if you're lucky enough to choose a non-devilish slice, you're in for a real treat.
Shezad Mahmood, Pizza Buyer at Morrisons adds: "The aim is to give customers the ultimate trick or treat. The question is will our customers be prepared to roll the dice and face heaven or hell in a slice?"
The 10" pizza is available at our pizza counters - you can pick one up for £3, or two for £5. Find your nearest store using our store finder.