The Turkey & Cranberry Christmas Tree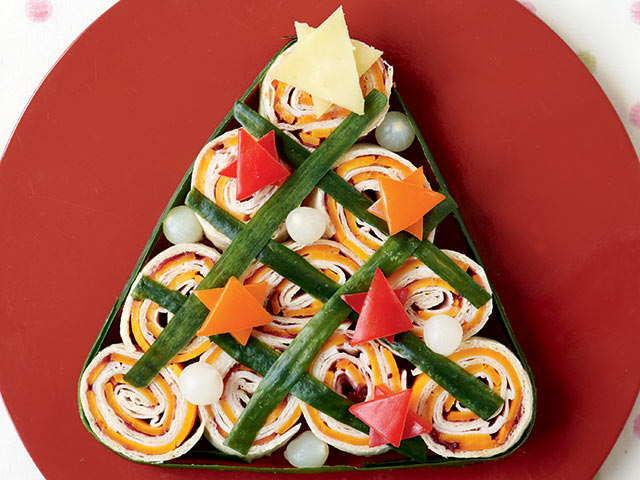 Yule need:
1 soft tortilla wrap
2 tbsp cranberry sauce
4 slices cheese slices
60g cooked turkey breast, thinly sliced
1 cucumber
1 slice yellow cheese
red pepper slices
small cocktail onions
How to make these edible Christmas trees:
Spread the tortilla with the cranberry sauce then layer the 4 cheese slices evenly, leaving a bit of space at the bottom of the wrap.
Layer with the turkey breast on top then roll up the wrap as tightly as you can into a sausage shape. Cover tightly with cling film then leave in the freezer for 25 minutes.
Remove from the freezer, unwrap, then cut into 10 equal pieces, cutting away any loose ends that don't contain cheese and turkey.
Set the slices on a plate in a pyramid shape; 4 at the base, then 3, then 2, then 1 at the top.
Use a vegetable peeler to create long strands of cucumber skin. Use these slices to surround the pinwheel wraps, securing them with a dab of cranberry sauce. Layer strands on top in a criss-cross pattern, as in the picture below.
Create 'stars' from the remaining cheese and the red pepper slices by layering two triangles on top of each other. The cocktail onions can then be dotted about to form Christmas tree 'lights'.
Cook's Tip:
Swap the cheese slices for brie cheese – a traditional Christmas match with cranberry.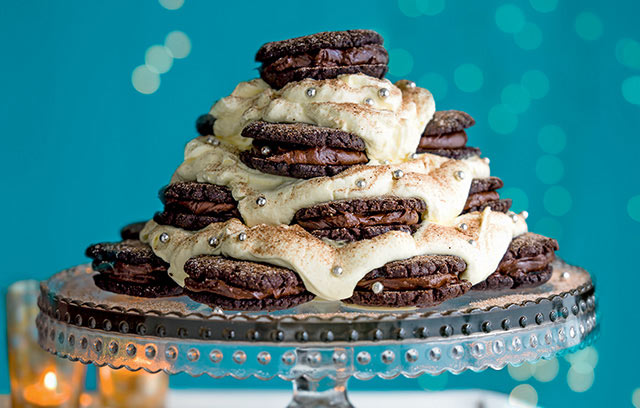 Yule need:
250g plain flour
100g cocoa powder
300g caster sugar
65g butter
60g sunflower spread
250g plain chocolate
2 eggs
250g mascarpone
600ml whipping cream
5 tblspn irish coffee liqueur
1 tsp icing sugar
1 tsp cocoa powder
1 silver balls
How to make these edible Christmas trees:
Heat the oven to 180C/ 160C Fan/ Gas 4. Line 2 baking sheets with baking parchment.
Sift the flour and cocoa into a large mixing bowl and stir in the sugar.
Melt together the butter, sunflower spread and chocolate, then beat in the eggs. Make a well in the centre of the dry ingredients, pour in the melted mixture and mix to form a dough.
Divide into 44 balls. Space out onto baking sheets, press each down into a flat disc and cook for 12-15 minutes. Move to a rack to cool.
To make the filling, melt the chocolate until smooth then beat in the mascarpone. Chill for 1 hour then use to sandwich cookies together in pairs.
For the tower, form a circle with some of the sandwiched cookies on a platter. Whip the cream and liqueur until it stiffens slightly and dollop over the cookies. Arrange a smaller circle of cookies on the top, and continue with the layers until you have 1 cookie on top. Dust with icing sugar and cocoa and scatter with silver balls. Serve immediately.