Chicken marinades are a great way to add different flavours to your barbecue, and cater for different tastes. They're easy to prepare and can really give your summer menu a tasty lift. Take a look at these sweet, smoky and spicy recommendations and try something new next time you're grilling for guests.
---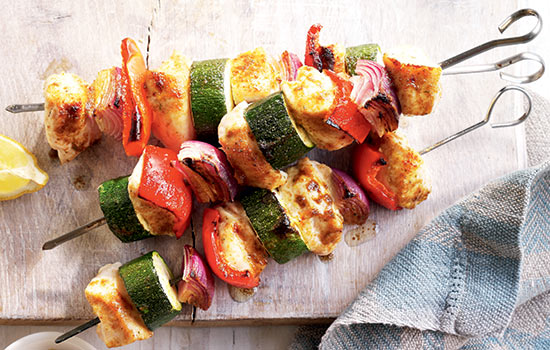 Whichever marinade you make, simple chicken and veg skewers will go down well at any barbecue.
---
How To Make A Chicken Marinade
For the recipes below, combine all the ingredients together in a mixing bowl and add 4 chicken breasts (approx 500g) or 8 chicken thighs (approx. 500g each). Mix well until all the chicken is thoroughly coated, cover with cling film and refrigerate for 12 hours.
We recommend skinned and boned chicken thighs, but skinless and boneless will work just as well, and drumsticks are ideal for certain recipes too. All recipes are for the barbecue but can be cooked under a medium-hot grill for around 20 minutes, turning the chicken over half way through cooking. Ensure the chicken is piping hot all the way through.
---
Top Marinating Tip:
Prick your chicken with a cocktail stick before marinating - so your sauces soak into the chicken more.
---
Sweet Marinades
Sweet chicken marinades are ideal for eating outdoors with friends and family - fruity ingredients are fun for children to make and try, and they make a particularly good glaze for chicken that really bring out the flavour of the meat.
Quick Pick: Maple & Orange Glaze
4 tablespoons maple syrup
1 tablespoon wholegrain or Dijon mustard
Grated zest of 2 oranges
1 tablespoon dark soy sauce
Our Chef Recommends...
---
---
Smoky Marinades
With a little more 'zing' to them, smoky barbecue marinades will work well if your guests don't have a sweet tooth but might not want to go for a spicy bite either. The smoky flavour works well with chicken, but you can try with other meats like pork too.
Quick Pick: Smoky Chipotle
60g morrisons chipotle chilli paste
2 cloves garlic grated or crushed
2 tablespoons demerara sugar
Zest and juice of 2 limes
Pinch of sea salt
A couple of twists of freshly ground black pepper
Quick Pick: Spiced Smoky Yoghurt
200g plain yogurt
Juice of 2 lemons
3 tablespoons extra-virgin olive oil
1 tablespoon finely grated peeled fresh ginger
1 teaspoon sea salt
2 teaspoons smoked paprika
2 teaspoons hot smoked paprika
2 cloves garlic grated or crushed
A couple of twists freshly ground black pepper
1/2 teaspoon ground cumin
---
Marinades are especially good for cheaper cuts of meat if you're barbecuing on a budget. The sugars, oils and spices will tenderise your chicken as well as adding flavour - and you can play with different recipes to impress your guests and mix things up if you host lots of gatherings over the summer.
---
Spicy Marinades
For those who like their chicken with a kick, spicy marinades take thinks up a level - and you can add more heat to taste too. Martin recommends his favourites below, including a drumstick version that's great for sharing around at larger gatherings.
Quick Pick: Buffalo Lime
½ bottle of Morrisons New York buffalo sauce
Juice of 2 limes and zest of 1
1 clove garlic grated or crushed
A couple of twists of ground black pepper
1 tablespoon olive oil
Our Chef Recommends...
---
---