Where Does Barolo Come From?
"Barolo is a red wine, made in the Piedmont region of northern Italy. The name Barolo refers to the region, or 'zone of production' which is an area to the south west of Alba, and south of Turin. The rules of production have always stipulated that Barolo had to be made from grapes grown on hillsides, but recent revisions have gone further by excluding vineyards planted in valley floors, areas without limited sunlight and areas with full-on northern exposures. In other words, the Italians take this wine very seriously and it is consequently awarded DOCG (Denominazione di Origine Controllata e Garantita) status, the highest quality level in the Italian wine classification system."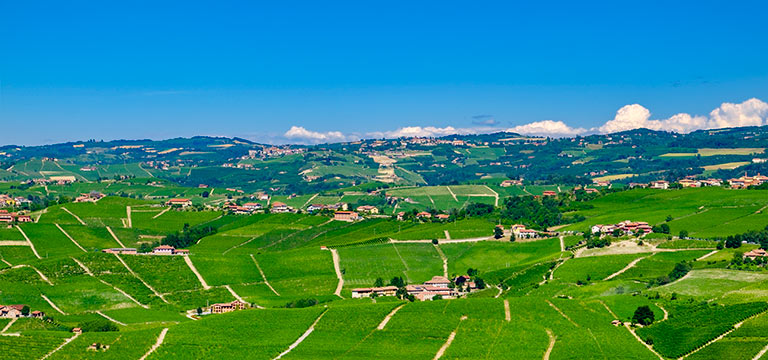 What Does Barolo Taste Like?
"Although it's a full-bodied wine, Barolo is light in colour with a characteristic brick red hue, and it is never opaque. The taste of Barolo is unique - classically, it is high in both tannin and acid so while it is powerful and full bodied, it doesn't necessarily have the depth of fruit and soft tannins of other types of wine which are also classified as powerful and full bodied such as Malbecs. This can sometimes cause confusion, but it is the pronounced acid and tannin which gives Barolo its great structure and complexity and is why it is considered by many to be one of Italy's greatest wines. The aroma of Barolo can be quite perfumed with a delicate floral note sometimes reminiscent of roses together with delicate spice and dried fruit notes. Flavours of dried cherries take centre stage on the palate supported by robust tannins and refreshing acidity. A good Barolo should have a long, lingering finish."
Who Will Enjoy A Glass Of Barolo Wine?
"Because of the pronounced acid and tannin in Barolo it is more similar to full-bodied european wines rather than wines from the New World which are typically more fruity. Try Barolo if you like wines like Chateauneuf du Pape and Crozes Hermitage or Chianti Classico."
What Will Make A Good Food Pairing For Barolo?
"A big, powerful, tannic wine, Barolo is made to be drunk with food and will often taste too acidic or tannic on its own. However, if paired with foods of a similar weight Barolo really comes to life. It goes particularly well with full-flavoured meat dishes as the tannins bind with the meat proteins giving the wine a softer taste, emphasising the fruit flavours. So, drink it with a juicy steak or with beef casseroles and game dishes such as as venison and pheasant."