Selasi's Baked Pecan Cheesecake
Check out Selasi's delicious recipe for a Baked Pecan Cheesecake below.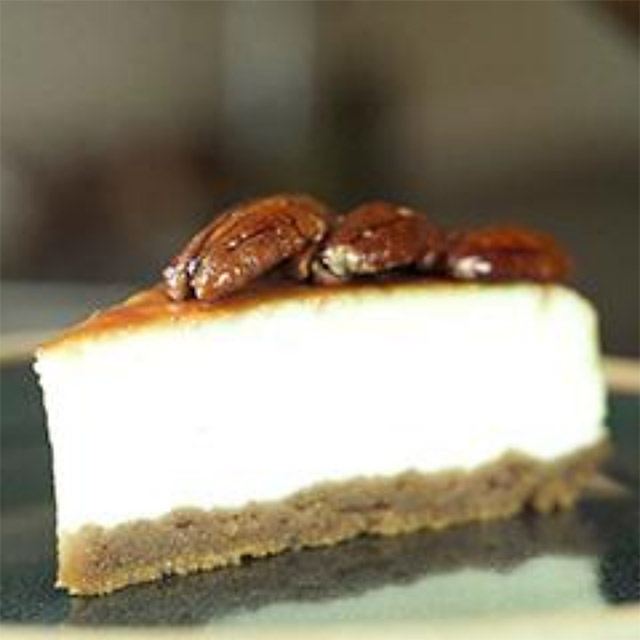 TOASTED PECANS
•250g paw pecans
•Toast in a preheated oven at 170°C for 18mins and set aside.
STRAWBERRY - OPTIONAL
•150g fresh strawberries
•60g Sugar
•Juice of half a lemon
Cook the above until softened - about 15 minutes
BISCUIT BASE
•133g Morrisons salted 'scalloped' crackers
•65g Morrisons pecan nuts
•3/4 Morrisons tsp nutmeg
•20g Caster sugar
•1/2 Tsp salt
•40g Morrisons unsalted butter
Method
1) Preheat the oven at 180°C
2) Melt the butter in a pan and set aside
3) Blitz the crackers, nuts, sugar, salt and nutmeg to a fine sandy texture
4) Pour the fine mixture into a bowl and stir in the butter
5) Grease the inside of an 8inch springform tin with butter. On the outside of the same tin, seal and cover the base of the pan with tin foil to the top. (This stops water from penetrating the tin)
6) Pour the mixture into the tin- level and press firmly. Bake for 18 minutes and allow to cool.
CHEESECAKE
•490g Morrisons cream cheese
•120g Morrisons sour cream
•120g Caster sugar
•7g Morrisons cornflour
•7g Morrisons plain flour
•4 Medium eggs
•1 Egg yolk
•1.5 Tsp Vanilla Bean Paste
•1 Tbsp lemon juice
Method
1) Preheat the oven to 160°C fan.
2) Whisk together the cream cheese, sour cream and sugar no more than two minutes.
3) Add the flour and cornflour.
4) Whisk in the eggs one at a time. And then the yolk.
5) Stir in the vanilla and juice.
6) Pour the mixture onto the baked biscuit base. Tap the tin on a flat surface a couple of times to push out any air bubbles.
7) Create a water bath- Place the tin into a large baking dish and fill the dish with enough water. About halfway.
8) Bake for 60mins- It should still be wobbly in the centre.
9) Once baked, turn off the oven and leave the door ajar and allow the cheesecake to cool in the oven.
10) Once cool, brush with the strawberry sauce and decorate with toasted pecans.
11) Chill in the fridge until ready to serve (best served cold).