What Do Morrisons Do With Unsold Food?
To prevent waste in our stores at Christmas - and all year round - if any food is left unsold that is still safe to eat, it is donated by our stores to local community groups and charities. Below are just two of the organisations our Unsold Food Programme helps, along with tips on what you can donate to food banks in our stores to help them and other charities. If you're a local community group or charity looking for donations, contact your local Morrisons and ask to speak to the Community Champion to see if we can help.
If Rudolph the Red Nosed Reindeer lined up just 4 days' worth of the carrots thrown away in UK homes, he would build a path long enough to guide his flight from London back home to Lapland.
Case Study: Horsforth Café
This December the Morrisons Corporate Responsibility Team visited Horsforth Café - a pay as you feel café held in St Margaret's Parish Church. Our Horsforth store makes weekly donations to the café which serves up a range of meals every Monday to members of the community. Opened in April 2016 the café serves over 50 customers a week, with 7,000 meals served so far this year.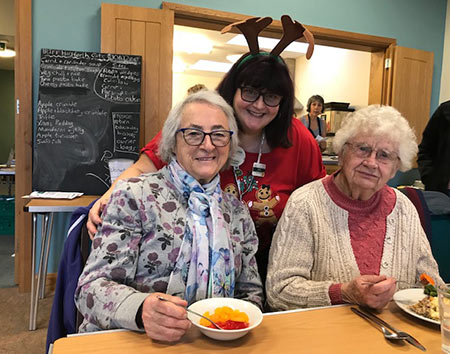 As the café is a not-for-profit organisation and run by a team of dedicated volunteers, funds raised are given back to the community throughout the year. Recent grants have been made to the local Children's Centre and mental health charity, Marketplace.
Each year, UK households throw away enough gravy to accompany Christmas dinner for the whole country.
Case Study: The Welcome Centre
The Corporate Responsibility team also visited The Welcome Centre this autumn - a Huddersfield-based charity currently receiving donations from our Meltham and Huddersfield stores through customer donation boxes and the unsold food programme.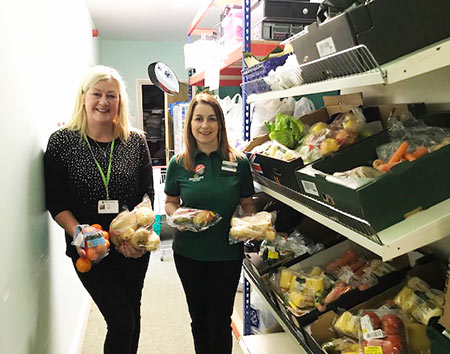 Founded in 1992, the centre offers practical support to vulnerable individuals and families through their food and crisis pack schemes. Crisis packs contain a mixture of toiletries, bedding and household items, whilst the food packs aim to feed a family for 7 days. Morrisons donations are invaluable in the creation of these packs which help over 200 families a week.
What to donate to food banks - at Christmas and all year round…
While we donate fresh unsold food to charities and organisations that need it in our communities we serve, you can make a difference too by buying a little extra with your shop to leave in our food bank collection points in store or at other locations near where you live.
Cereals
Soups and stews
Pasta, rice and sauces
Tinned meat and fish
Tinned beans and veg
Tinned fruit
Oil Sprays
Broth and stock
What do food banks need most?
If you want to make your own donations, please look for a food bank collection point in store, or buy extra with your shop and ask your local council where you can take it.