Making food that takes you places
Introducing our new delicious recipe series called Food That Takes You Places. Check out the full recipes below and join us on a culinary adventure.
Chilli Dogs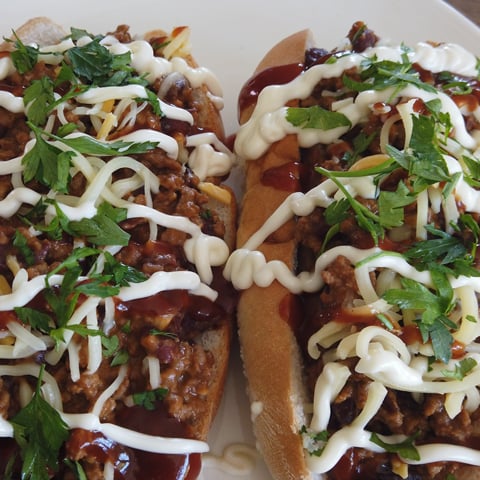 Ingredients
6 sausages
500g mince
1 tin of Kidney beans
Morrisons 4 cheese mix
BBQ sauce
2 Garlic cloves finely chopped
5 tsp Lea & perrins
2 tsp Hot chilli powder
2 tsp Paprika
Mayo
Hot dog buns
Flat leaf parsley
Olive oil
Method
Place a frying pan on a medium heat and add a dash of oil. Prick the sausages and place them in the pan turning regularly for around 15-20 mins or until browned entirely and cooked through.
Heat a large saucepan over a medium heat and place the mince in. Add the paprika, Lea & Perrins, hot chilli powder and garlic to the pot and turn to mix with the mince cooking for 5 minutes. Once starting to brown add the kidney beans and turn combining together then squirt roughly 1/3 of the bbq sauce bottle over the entire mixture. Let the mixture cook for another 10 minutes on a medium to low heat turning regularly. Once cooked through, add a handful of the four cheese mix to pan combining until melted and stringy.
To serve, take the buns and cut from the centre, top to bottom leaving connected at the base. Line with a sprinkle of cheese then place the sausage on top.
Take a spoonful of chilli and cover the top of the sausage and bun. Sprinkle more cheese over and then squeeze mayo and BBQ sauce over the top. To finish sprinkle the chopped flat leaf parsley over the top.
Super Salad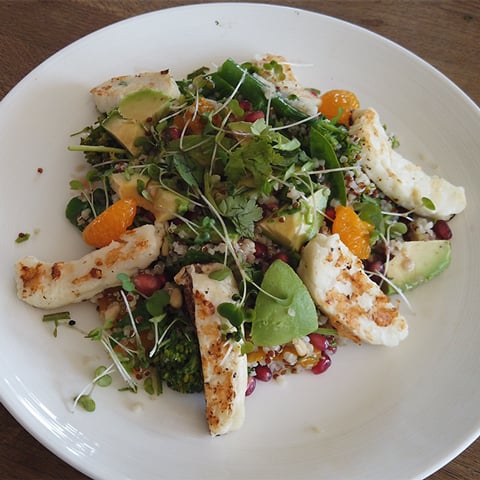 Ingredients
100g halloumi cut into batons
100g bulgur wheat & quinoa
Hand full of spinach cut to ribbons
Clementines in light syrup
Lime cut to wedges
Cress
1 Avocado diced
2 tsp balsamic vinegar
2 tsp Olive Oil
100g broccoli heads
10g Coriander
50g pomegranate seeds
10g pine nuts
Method
Start by placing the bulgur wheat and quinoa in boiling salted water, time according to the packet.
While they're cooking, take your handful of spinach and cut into ribbons. The easiest way to do this is to place as many of the leaves on top of each other and then cut vertically.
Once the spinach is cut, bring a pan of salted water to the boil and add the broccoli heads to the water. They should only take 3-4 minutes to soften, but not go limp.
Take your cut halloumi and add to a hot pan turning once the browning and softening takes place on the side. Remove from the heat once both sides have browned.
Take the balsamic vinegar, olive oil, squeeze a wedge of lime, 2 tsp of pomegranate seeds and a third of the syrup the clementines came in, into a blitzer. Blitz until it turns to a liquid and set aside.
Take a large mixing bowl and add the broccoli, bulgur wheat and quinoa and spinach turning to combine. Add the pomegranate seeds, chop the coriander and pine nuts to the mixture. Now throw a third of the clementines into the mixture and turn together.
To plate: Pile the mixture from the bowl into the middle of a plate, line the halloumi around the salad dome then drop the avocado over the top, cut some cress and sprinkle over the entire salad with a few pomegranate seeds and finish by drizzling over the salad dressing.
Jodie's Piri Piri Chicken Salad with Halloumi
If you loved the Super Salad recipe above, take a look at Jodie of @absolutelyjodes recipes for Piri Piri Chicken Salad with Halloumi below.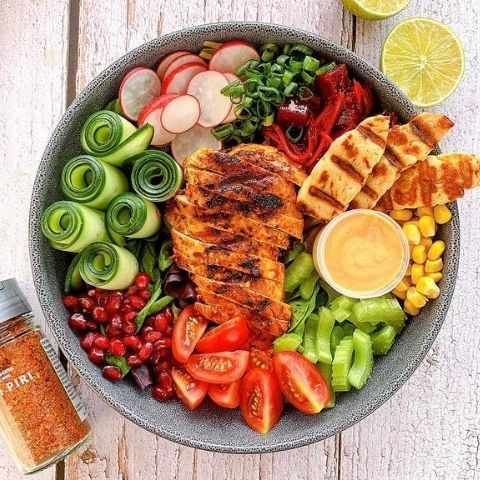 Piri Piri Chicken Super Salad with Halloumi
Ingredients
1 medium chicken breast
1 tbsp piri piri seasoning
1 garlic clove
½ lime
Baby leaf salad
1 cucumber
2 spring onions
6 cherry tomatoes
Handful of radish
Tin of sweetcorn
Pomegranate
2tbsp peri peri mayonnaise style dressing
Method
In a bowl, coat the chicken breast in piri piri seasoning and add grated clove of garlic and squeeze 1/2 a lime.
Grill the chicken for 5-6 minutes on each side, then leave to rest for 5 minutes.
Start your bowl with your baby leaf salad and build up with rolled cucumber, sliced radish, diced spring onion, sweetcorn, chopped tomatoes and pomegranate.
Next, grill halloumi. Turn frequently for 2-3 minutes until cooked as desired.
Slice chicken and add on top of salad, along with halloumi.
Serve with peri peri mayonnaise style dressing and enjoy.
Chloe's Sticky Salmon with a Satay Superfood Slaw
Continuing our super salad theme, check out Masterchef Quarterfinalist Chloe's take on superfood salad below!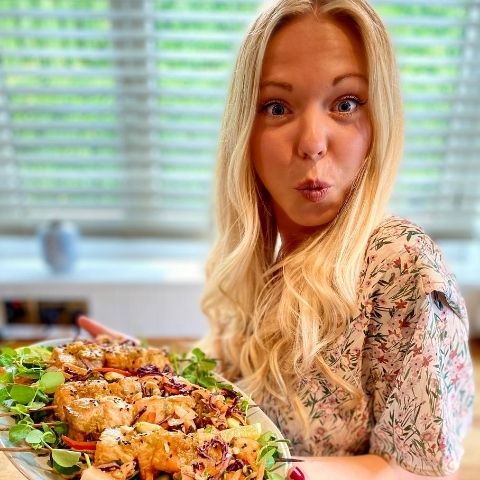 Ingredients
For the salmon
200g fresh salmon fillets (boneless & skinless)
2 tbsp extra virgin olive oil
1 tsp ginger crushed
2 garlic cloves crushed
Juice 1 lime & zest
2 tbsp honey
2 tbsp soy sauce
1 tsp sesame seeds
For the slaw
1/4 red cabbage sliced
1/2 red pepper sliced
1 carrot grated
1 medium white onion sliced
Handful Edamame peas
Handful coriander chopped
2 tbsp sesame oil
1 tbsp soy sauce
4 tbsp apple cider vinegar
2 tbsp honey
2 tbsp smooth peanut butter
1 inch ginger grated
2 tsp hot sauce
Handful pea shoots (optional to garnish)
Small handful peanuts (optional to garnish)
Method
For the slaw blitz together all of the non-fresh ingredients until smooth and then mix with the fresh ingredients and set aside until ready to serve.
Cut the salmon into 1 inch cubes and mix together all marinade ingredients bar the sesame seeds. Submerge salmon pieces into the bowl of marinade and leave for 15 mins.
Thread the salmon pieces onto skewers (if wooden, dip in water first) and grill in the oven for 10 mins.
Keep the leftover marinade as you will use this to baste onto the salmon, turning and coating the salmon every couple of minutes whilst it cooks.
Whilst the salmon cooks toast your sesame seeds for a few mins in a non-stick pan over a medium heat.
Once the salmon is ready, sprinkle with sesame seeds and serve on top of a bed of your satay slaw.
Sprinkle with pea shoots and peanuts and enjoy.