When answering the question: 'Is Dark Chocolate Healthy?', it's important to point out that all chocolate can be enjoyed in moderation as part of a balanced diet. However, dark chocolate is often seen as a healthier alternative to milk and white chocolate - here's why.
Cocoa beans contain phytochemicals such as flavonoids which can have anti-inflammatory and antioxidant effects. Research suggests that it is these flavonoids which may help reduce the risk of a stroke and have cardioprotective effects.
The higher the percentage of cocoa solids in the chocolate, the higher the flavonoids content. Dark chocolate contains more of these flavonoids in comparison to milk chocolate, which has less and white chocolate which has none.
Dark chocolate tends to be higher in fat but lower in sugar in comparison to white and milk chocolate.
Remember, over-indulging means lots of calories, fat and sugar. Our nutritionists recommend that you stick to one or two small squares after tea for a little treat, and try to buy dark chocolate which has a 70% cocoa content or higher, like a bar of The Best 72% Cocoa dark chocolate.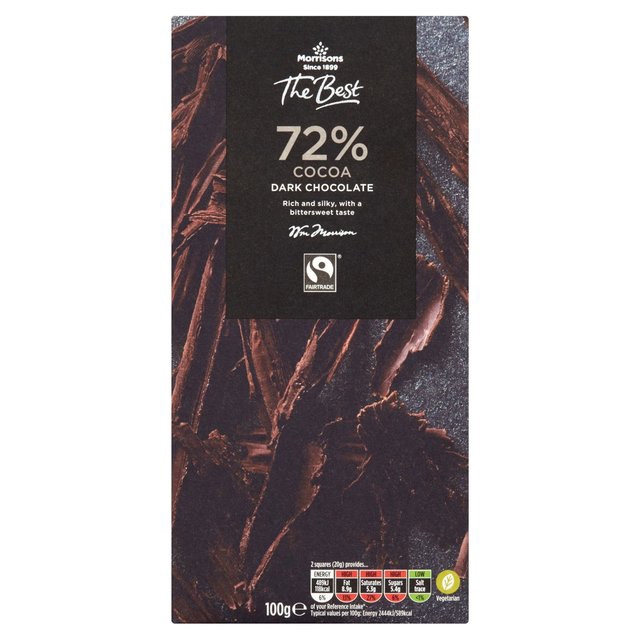 Tips for introducing dark chocolate to your diet
If you find it hard to control chocolate portions, try these tips which will help you carefully incorporate dark chocolate into meals and snacks instead:
Browse our delicious range of dark chocolate online >>
Source used: Katz, D., Doughty, K. and Ali, A (2018). Cocoa and Chocolate in Human Health and Disease. [online]. NCBI. Available at:https://www.ncbi.nlm.nih.gov/pmc/articles/PMC4696435/ [accessed 22 Feb.2018].