Our tasty Morrisons Cafe menu gives you even more of a reason to take a break during a visit to your local store. We've given many of the cafés themselves a makeover too, so you can enjoy great tasting Morrisons food in a more relaxing, comfortable and modern environment.
Many of the food options below feature Market Street products sourced from our family butcher, fishmonger and greengrocer, so you get the same great quality in Morrisons cafés as you get on Morrisons shelves.

New: The Morrisons Christmas Cafe Menu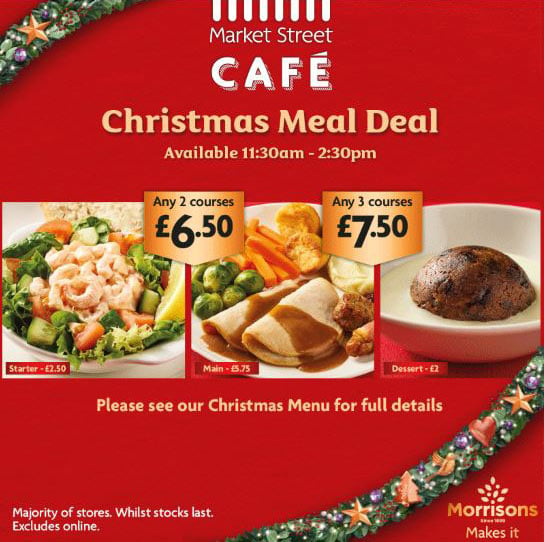 Our Everyday Menu
(for most stores in England)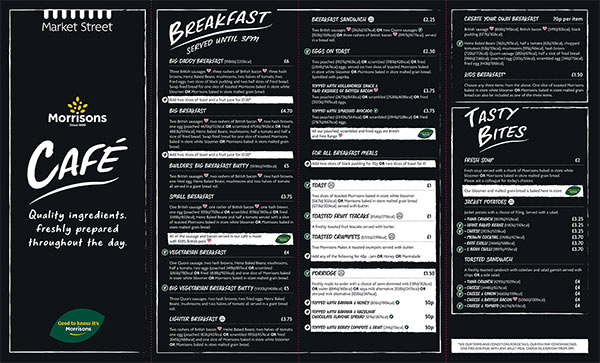 Click on the menu to view a larger version.
To check our café menu for most stores in Scotland click here, or for most stores in Wales click here.
Our Morrisons Kids Menu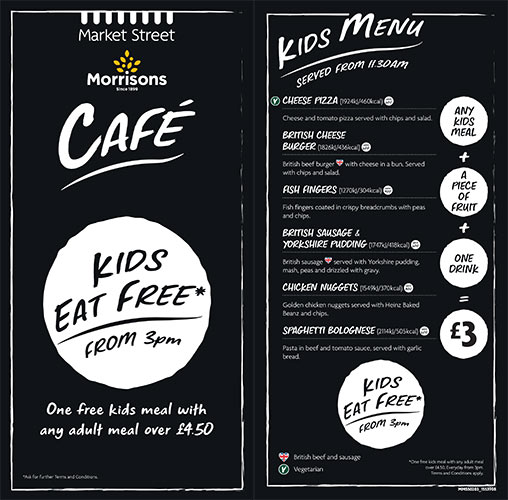 Our Food Options
Take your pick from satisfying breakfasts, 'dishes that are under 450 calories, light bites, burgers, classic main meals (large or small) and delicious desserts - as well as salads and sides and our Teatime Meal Deal.
Close X
Breakfast Options
Choose from

Close X
Classic Dishes
Our café classics include Gammon, Egg & Chips, Steak & Ale Pie, Lamb Shank, Omelettes and Sausage, Egg & Chips. We also serve roast dinners on Sundays with chicken or beef, as well as a Mushroom Wellington option.

Close X
Pasta Dishes
Our pasta dishes include Beef Lasagne, Macaroni Cheese, and kids' Spaghetti Bolognese. Add a salad from our 'Build A Salad' bar, or pick from side dishes like Garlic Bread, Garlic Mushrooms, Chips or Sweet Potato Fries.

Close X
Salad Dishes
From our Salmon, Spinach & Asparagus salad to Chicken & Avocado, side salad options it's easy to eat well at Morrisons cafes.

You can also visit our 'Build A Salad' bar and choose a base, topper and dressing to create your favourite combination.
"The food at the cafés was delicious and well prepared and served."
Morrisons Café customer, Speke
Close X
Fish Dishes
Take your pick from Freshly Battered Fish & Chips, Whitby Wholetail Scampi (both available in smaller portions too), Salmon Fillet with Hollandaise Sauce - or fish fingers for the kids.

Close X
Light Bites
Whether you like a light breakfast like Eggs Benedict or Buttered Toast, a quick lunch like a salad or something from our 'Under 450 Calories' selection like our Super Scrambled Egg, you'll find a range of smaller plates and healthier options in Morrisons cafés.

Close X
Hunger Busters
Our cafés serve a great variety of burgers, from 1/4 and 1/2lb Beef Burgers and Cajun Vegetable Burger to Southern Fried Chicken or Skinny Chicken options. You can add extra cheese, coleslaw and bacon too - and all are served with chips or side salad.

If you prefer, pick a Hunter's Chicken Stack, Jacket Potatoes, Pies, Chicken Tikka - or Roast Dinners on a Sunday.

Close X
Dessert Dishes
Treat yourself to a Sticky Toffee Pudding, Ice Cream Sundae, Warm Chocolate Fudge Cake, Syrup Sponge Pudding, Bramley Apple Crumble or Bread & Butter Pudding - you deserve it.
Our Hot Drink Options
Call into one of our cafés for an early morning coffee, a nice cup of tea for Elevenses, or a well-earned rest after your shop. As well as tea serve Tea, Black Coffee, Latte, Cappucino and Milky Coffee - all using 100% Arabica beans.