Morrisons in-store Amazon Locker gives you a hassle-free way to pick up your parcels. You can 'click & collect' by choosing one of our participating supermarkets as your delivery address when you buy Amazon goods online.
Using an Amazon Locker is a great new 'self-service' way to collect (or return) the gifts, gadgets, household items and other goods you buy online with Amazon. Instead of having to wait in for (or miss) parcel delivery to your home or business address, you can now pick it up at Morrisons while you shop - at a time that suits you.
Amazon Locker - how to use your in-store service
Add your local Amazon Locker to your Amazon address book either by searching the friendly name (featured in the top right hand corner of the Locker) or for the Morrisons store when you check out.
Once your parcel is delivered to the secure Morrisons Amazon Locker in-store, you'll receive an email telling you your unique pickup code. Then, just head to your Morrisons store when you're ready - your parcel will be kept in the Locker for three days. Just enter your pickup code or scan the barcode using the scanner, and follow the instructions on the screen to release your delivery.
---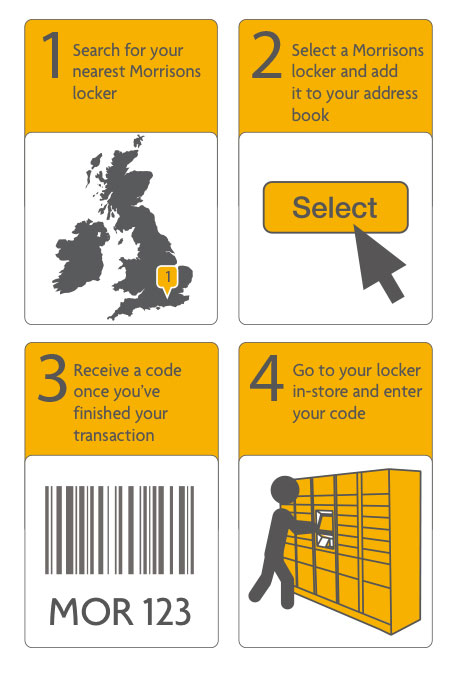 ---
You'll find Amazon Locker in the following stores:
A
Aberdeen King Street
Aberystwyth
Airdrie
Aldershot
Aldridge
Alloa
Aylesbury
Ayr
B
Bacup
Bamber Bridge
Banbury Swan Close
Banchory
Bangor
Bargoed
Barnsley Brampton
Barnsley Westway
Barrow in Furness
Barry
Basildon Corringham
Basingstoke
Bath
Bathgate
Beccles
Bedford
Bellshill
Belper
Beverley
Bideford
Birmingham Small Heath
Birtley
Bishop Auckland
Bishopbriggs
Blackburn
Blackpool
Blandford
Blaydon
Blyth
Bodmin
Bognor Regis
Bolton Breightmet
Bolton Dawes
Bolton Harwood
Borehamwood
Boroughbridge
Bracknell The Peel Centre
Bradford E5
Bradford Mayo Ave
Bradford Victoria
Brentford
Bridgwater
Bridlington
Bristol Cribbs Causeway
Bristol Fishponds
Bristol Hartcliffe
Bromsgrove
Brough
Bude
Burntwood
Burton on Trent
Bury Ramsbottom
Buxton

C
Canvey Island
Caernarfon
Caerphilly Castle Court
Cambridge Cambourne
Camden Town
Cannock Mill Street
Canterbury
Canvey Island
Cardiff Newport Road
Cardiff Sports Village
Cardiff Ty Glas Road
Carlisle Kingstown Rd
Carmarthen
Carterton
Castle Bromwich
Castleford
Caterham
Catton
Chapel En Le Frith
Chatham
Cheadle
Chelmsford
Cheltenham Up Hatherley
Chester
Chester Saltney
Chester-Le-Street
Chesterfield Chatsworth Rd
Chingford
Chippenham
Chorley
Clacton Waterglade
Cleethorpes
Cleveleys
Coalville
Coleshill
Colindale
Colwyn Bay
Congleton
Connahs Quay
Consett
Corby
Coventry Binley
Coventry Holbrooks
Coventry Holyhead Road
Cowdenbeath
Crawley Sussex House
Crediton
Crewe Dunwoody
Cromer
Crowborough
Croydon
Cwmbran
D
Dalkeith
Darlington Morton Park
Darlington North Road
Denbigh
Denton
Derby
Dereham
Devizes
Diss Victoria Road
Doncaster Balby First Point
Doncaster
Dover
Downham Market
Droitwich
Dudley Kingswinford
Dukinfield
Dumbarton Glasgow Road
Dundee Afton Way
E
Ealing
East Kilbride Lindsayfield
Eastbourne
Ebbw Vale
Eccles
Edgbaston
Edinburgh Granton Waterfront
Edinburgh Hunters Tryst
Edinburgh Moredun
Edinburgh Portobello Rd
Edinburgh South Gyle
Elland
Ellesmere Port
Enfield
Erskine
Evesham
Exeter

F
Failsworth
Falkirk
Farnborough
Faversham
Felixstowe
Fleet Elvethorn Heath
Folkestone Cheriton Road
Frodsham
G
Gainsborough
Giffnock
Glasgow Anniesland
Glasgow Auchinlea
Glasgow Barrack St
Glasgow Cardonald
Glasgow Crossmyloof
Glasgow Newlands
Glasgow Partick
Glastonbury
Glenrothes
Gloucester Triangle Park
Gloucester Abbeydale
Gorleston
Gosport
Grantham
Gravesend
Grays
Great Harwood
Greenock
Guisborough
H
Hadleigh
Hadleigh, Suffolk
Hamilton New Park Street
Harrogate Starbeck
Harrow
Hartlepool
Harwich
Hastings
Hatch End
Heckmondwike
Hereford
Heywood
High Wycombe
Hoddesdon
Holyhead
Horndean
Horsforth Leeds
Houghton Regis
Huddersfield
Hull Anlaby
Hyde
I
Ilkeston
Illingworth
Inverurie Blackhall Road
Ipswich
J
Jarrow
Johnstone
K
Keighley
Kendal
Kettering Lower Street
Kidderminster
Killingworth
Kilmarnock
Kings Lynn
Kingsbridge
Kirkby-in-Ashfield
Kirkcaldy
Kirkham
Knottingley
L
Lanark
Largs
Larkfield, Maidstone
Leamington Spa
Leeds Guiseley
Leeds Harehills
Leeds Hunslet
Leeds Kirkstall
Leeds Rothwell
Leek
Leicester
Leigh
Leighton Buzzard
Leominster
Letchworth
Leyland
Lichfield
Lincoln
Little Clacton
Littlehampton
Liverpool Belle Vale
Livingston
Livingston Carmondean Centre
Llanelli
London Acton
London Camberwell
London Erith
London Holloway
London Peckham
London Petts Wood
London Queensbury
London Southwark
London Sutton
London Thamesmead
Loughborough
Loughton
Lowestoft North Quay
Lowestoft Tower Road
Lutterworth
M
Maidstone
Maldon
Malton
Malvern
Manchester Chorlton Cum Hardy
Mansfield
Mansfield Woodhouse
Margate
Market Drayton
Meltham
Melton Mowbray
Middlesborough
Middlewich
Milton Keynes Elder Gate
Minehead
Mitcham London
Morecambe
Morley Leeds
Morpeth
N
Nantwich
Nelson
New Brighton
New Milton
Newark
Newcastle Byker
Newcastle Cowgate
Newcastle-Under-Lyme Goose Street
Newcastle-Under-Lyme Lower Milehouse
Newport (Gwent) Rogerstone
Newport Spytty Road
Newquay
Newtown
Northampton
Northampton Kettering Rd
Norwich Albion Way
Nottingham Bulwell
Nottingham Clifton
Nottingham Eastwood
Nottingham Gamston
Nottingham Netherfield
O
Oldham
Openshaw
Oswestry
Oxted
P
Paisley Anchor Mills
Paisley Falside Rd
Palmer's Green
Perth Caledonian Road
Peterborough Lincoln Rd
Plymouth
Plymstock
Pontefract
Port Talbot Baglan
Portsmouth
Portsmouth Anchorage Park
Preston
Preston Riversway
R
Reading
Redcar
Redditch
Redruth
Reigate
Retford
Rhyl
Ripon
Rochdale
Ross-on-Wye
Rotherham Bramley
Rotherham Catcliffe
Rotherham Parkgate
Royston
Rubery
Rugeley
S
Scarborough
Scunthorpe Lakeside
Seaford
Selby
Sheffield
Sheffield Broomhill
Sheffield Ecclesfield
Sheffield Hillsborough
Sheffield Meadowhead
Shefford
Sheldon
Sheppey
Shrewsbury
Sittingbourne
Skegness
Skipton
Solihull
Solihull Shirley
South Shields
Southend
Southport
Spalding Pinchbeck
Speke
St Albans
St Helens Baxters Ln
St Helens Boundary Road
Stamford
Stamford Hill
Stanground
Staveley
Stevenston
Stewartfield
Stirling Munro Road
Stockport Bredbury
Stockport Cheadle Heath
Stockport Poynton
Stockport Reddish
Stockton Thornaby
Stoke
Stone
Stratford
Stratford-Upon-Avon
Strood Manchester
Stroud Nailsworth
Sunderland
Sunderland Doxford Pk
Swadlincote
Swansea
Swindon Dorcan Way
Swindon Haydon Wick
Swindon Regents Circus
Swinnow Road
Swinton
T
Tamworth
Tamworth
Taunton
Tavistock
Teignmouth
Telford Lawley
Thornbury
Tiverton
Todmorden
Totnes
Totton
Troon
Tynemouth
V
Verwood
W
Wakefield Dewsbury Rd
Wakefield Ridings
Walsall
Walsall Lichfield St
Warminster
Warrington Greenalls Ave
Watford
Wednesbury
Welling
Wellingborough
Wellington
Wells
Welshpool
Welwyn Garden City
West Denton
Westbury
Weston Super Mare
Wetherby
Weybridge
Weymouth
Whitefield
Whitley Bay
Widnes
Wigan Ince
Willenhall
Wimbledon
Wincanton
Winsford
Wisbech
Witham
Woking
Wokingham
Wolverhampton Bilston
Wolverhampton Pendeford
Worksop
Worthing
Wrexham
Wymondham
Y
Yate
Yeadon
Yeovil
York
York Acomb
---