Our partnership with CLIC Sargent is going from strength to strength, and we're excited to announce that fundraising through Morrisons has now reached the £4m milestone.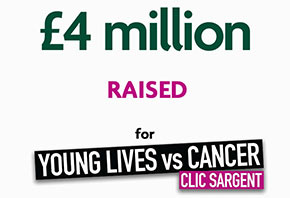 How is the Morrisons charity partnership helping CLIC Sargent?
So far, our customers and staff have helped CLIC Sargent give 2,732 grants to children and young people to help with the costs that start mounting up immediately after a cancer diagnosis.
Families are thrust into chaos and travel costs, on-the-go meals and parking fees can become an unmanageable burden. CLIC Sargent research shows that cancer costs families on average £600 more per month. But thanks to the generosity of our colleagues and customers, we have helped relieve some of that burden for thousands of families.
With help from Morrisons, CLIC Sargent is providing a UK-wide team of Outreach Nurse Educators to promote confident cancer care closer to home.
Five Nurse Educators covering the entire country are being funded thanks to our partnership, with two already in post set to benefit 800 families over the next 12 months. CLIC Sargent knows that for families going through cancer, there is no place like home. The Nurse Educators mean more children and young people can safely have routine cancer treatment at their local hospitals – and can continue school, work and life with minimal disruption.

Our charity partnership with CLIC Sargent means more families will have a home-from-home where they can take time out from the chaos of hospital life.
Staying on hospital wards for days, weeks and months at a time can leave parents and young people feeling isolated, exhausted and overwhelmed. Parents often face weeks and months sleeping on a chair or camp bed in a cramped ward. CLIC Sargent already runs 10 Homes from Home – guest accommodation close to cancer hospitals across the UK where families can stay for free during their child's treatment - and the partnership means more can be created to help even more families.
Money raised through Morrisons fundraising has made it possible for CLIC Sargent to offer a 'day service' - with communal areas for families who don't need to stay overnight.
Thanks to help from Morrisons, CLIC Sargent have been able to provide a brand new service, opening up communal areas in their homes so the whole family can take a break from the wards, even if they aren't staying overnight. They can take a shower, wash clothes, and cook their child's favourite meal - or just have a coffee and use the internet to stay in touch with family, friends and colleagues.