The changeover from plastic to paper - set to be fully complete in 2019 - will save 925 tonnes of plastic a year
The new paper being used on Morrisons bouquets is called a 'hydro sleeve' which has wax mixed into it to make it waterproof. It's also FSC certified and 100% recyclable.
Standard Morrisons bouquets will be the first to switch to the new paper wrap in September, with single flower bunches and Morrisons The Best following in early 2019.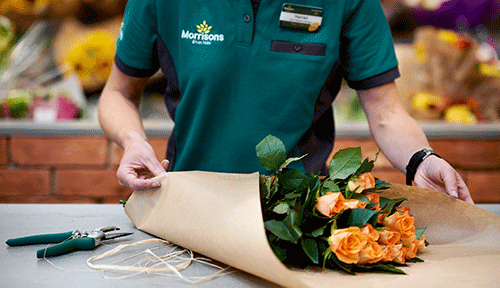 "Customers are telling us they'd like us to reduce the amount of unnecessary plastic packaging we use. The new paper wrap does exactly the same job as plastic and looks just as good. More importantly though, it keeps a large amount of plastic out of the environment."
Drew Kirk, Category Director Produce and Horticulture
We've recently announced a number of measures to reduce plastic use in line with the UK Plastics Pact which include:
Enabling customers to bring their own containers to Morrisons Butchers and Fishmongers counters.
Moving all loose fruit & veg to be sold in paper rather than plastic bags.
Removing plastic sleeves from cucumbers