We've picked out a delicious menu of meals below - each designed to help you serve up rustic, restaurant quality food at home, whatever the occasion. Ideal for a light lunch, date night dinner or family supper these linguine, spaghetti, penne and sheet recipes are quick to prepare and a must-have for weekly meal-planning.
Spaghetti Servings
Spaghetti is a must for your food cupboard - for World Pasta Day and any other day. Keep stocked up and add our sauce ideas to your recipe book, and you'll always have what you need for a quick and easy home-cooked meal.
Spaghetti Bolognese
Spaghetti Bolognese has long been a family favourite, and a versatile way to experiment with veggies through the different seasons. Here's a recipe for a classic sauce to make your spaghetti sing - and you can use it as a base for different pasta dishes too if you want to mix things up.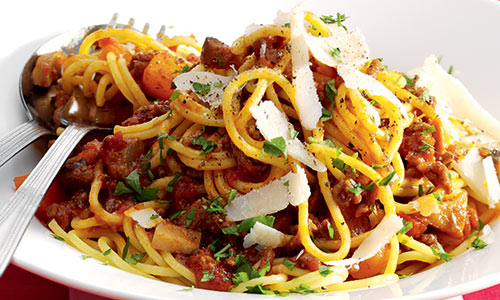 For the Bolognese sauce (double quantity - save some for another recipe):
1 large onion, peeled and finely chopped
800g Beef Mince
2 tbsp plain flour
2 cloves garlic, peeled and crushed
2 medium carrots, peeled and finely chopped
200g mushrooms, diced
1 tbsp torn mixed herbs
100ml red wine
2 x 400g cans chopped tomatoes
2 tbsp tomato purée
500ml beef stock
1 tbsp demerara sugar
salt and freshly ground black pepper
To serve: 225g cooked spaghetti, shavings of Parmesan, fresh parsley, chopped
How to make it:
Heat a large non-stick pan and add the onion and mince, dry fry for 5 minutes, breaking up the mince so it browns evenly. Sprinkle the flour over and cook for 2 minutes, stirring.
Add the garlic, carrots, mushrooms and mixed herbs and cook for a further minute.
Stir in the wine, tomatoes, purée, stock and sugar. Season to taste and bring to the boil.
Reduce the heat and simmer uncovered for 50 minutes, stirring from time to time.
Serve half the quantity with cooked spaghetti, a shaving of Parmesan and a sprinkle of parsley. Keep half the sauce aside for another meal, or to use with different pastas and vegetables through the week.
Top tip: When bunched together, 100g dried spaghetti is about the same circumference as a 20p piece.
Prawn, Chilli & Basil Spaghetti
For a satisfying dish with a difference and an extra helping of 'La Dolce Vita' flavours, try this seafood spaghetti. With a chilli kick, lemon zing and sweet tang of fresh basil, this prawn recipe brings together all the hallmarks of Italian cuisine.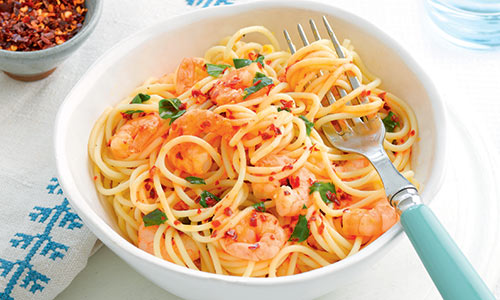 You'll need:
100g spaghetti 2 tbsp extra virgin olive oil
1 lemon, juice and finely grated zest pinch dried crushed chilli flakes, or to taste
25g fresh basil
100g peeled king prawns
How to make it:
Bring a large pan of salted water to the boil and cook the spaghetti according to the instructions on the packet.
Meanwhile, warm the oil in a pan over a medium heat. Add the lemon zest and chilli and cook for 1-2 minutes until starting to sizzle.
Remove the leaves from the basil and discard the stalks. Roughly chop or rip the basil and add it to the oil with the prawns. Turn up the heat and cook for 1-2 minutes until piping hot and the prawns are cooked through.
Add the drained pasta and 3 tbsp of the hot cooking water to the pan. Squeeze over 2 tbsp of lemon juice and toss together. Season to taste and serve immediately.
Look for the 'C' when cooking prawns. Straight prawns are undercooked, prawns that have just curled into a C-shape are perfectly cooked, and prawns that have twisted into an O-shape are overcooked.