Unsuspecting party guests who are chilli 'lightweights' may be in for a 'Hell-ish' experience.
The petrifying pizza is also topped with ingredients made from some of the world's hottest chillies. As victims bite into the pizza the first fiery surprise will be the ghost chilli sauce. The ghost chilli has a Scoville rating of over 1 million, 200 times spicier than Tabasco sauce and 200 times hotter than a jalapeño.[i]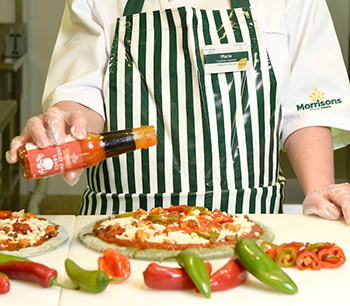 If that doesn't spook them enough, next up comes the R.I.Pizza's Reaper chilli cheddar – a cheese infused with the world's hottest chilli, the Carolina Reaper, which is 300 times hotter than the Jalapeño chilli and Tabasco sauce.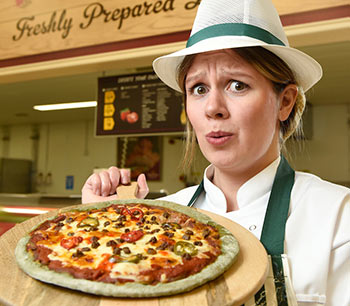 For a final devilish surprise, Morrisons pizza experts will be adding spicy beef and jalapeños. Simon Metcalfe, Pizza buyer at Morrisons said:
"This R.I.Pizza is one of the hottest and spookiest we've ever made. It is definitely a combination of trick and treat with the delicious green base, and the burn from the reaper cheddar or ghost chilli sauce."

The 10" R.I.Pizza is £2.50 and available from Morrisons pizza counters across the country.
[i] Scoville Scale ratings: http://www. chilliworld.com: Jalapeño pepper – 2,500-5,000, Tabasco Sauce Original - 2,500-5,000, Ghost Chilli (Naga bhut jolokia pepper) 1,041,427. Guinness World Records, http://www. guinnessworldrecords.com/ world-records/hottest-chili: Carolina Reaper - 1,641,183