We're excited to let you know that 'Eat Fresh' - a brand new Morrisons recipe box subscription service that aims to make cooking from scratch more affordable and creative - is now open for business.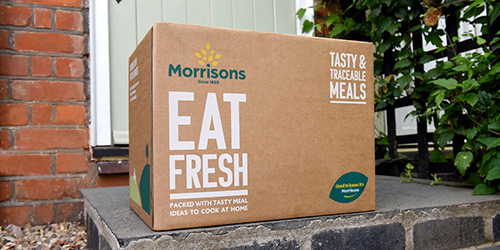 Try the new Morrisons Eat Fresh recipe box subscription service
Our convenient recipe box subscription service is really easy to use. All you need to do is tell us how many meals you'd like to 'Eat Fresh' every week, and choose your recipes for two or four people. We'll then pack all the pre-portioned ingredients you need to cook a range of recipes - and deliver inspiring meal kits to your door as often as you ask us to.
Our Eat Fresh subscription service can be paused or cancelled at any time - and you can also choose one-off orders 'as and when' if you prefer.
The recipe boxes are designed to give you a more creative option in the kitchen if you're short on time but still want to eat well and cook from scratch - all the dishes available can be rustled up in just 30 minutes, from our Asian Style Hake Fishcakes and Sweet Chilli Chicken to our Aubergine Curry and Chipotle Beef Fajitas.
"We are making recipe boxes more affordable so more of our customers can enjoy this simple way of eating fresh food.We have tested these on a range of amateur cooks and we know that these dishes can be cooked in 30 minutes flat."
Matt Kelleher, Online and Digital Director at Morrisons
Fresh New Recipes, Regularly
The range of recipes will be refreshed regularly, giving you plenty of choice for mid-week meals, special occasion treats and date night dining. Each recipe will include the traffic light system too, so you can be clear on the nutrition content of each meal.
Packed Fresh, Kept Fresh
The Eat Fresh recipe boxes are made of recycled cardboard, and are delivered (7 days a week) with special chilled and insulated packaging so ingredients will stay fresh for up to 24 hours out of the fridge. And if you're not at home, we'll leave your box in a safe place you choose ready for you to pick up when you get back.