Festive Brunch Recipe
A deliciously festive dish from @imtheonewhocooks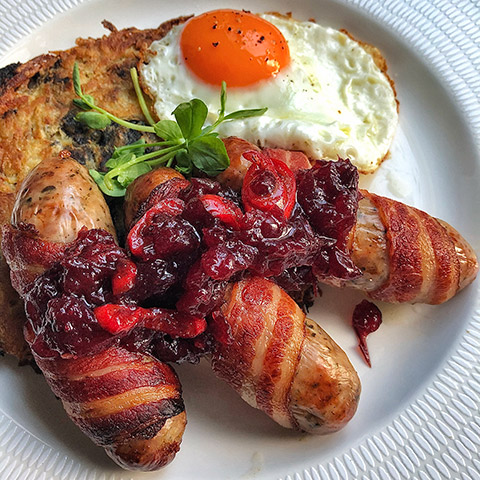 Serves: 1 | Time: 35 mins
Ingredients
3 Morrisons The Best Cumberland Sausages
3 rashers of Morrisons The Best streaky bacon
1 large baking potato
2 eggs
1/4 stick of black pudding
1/2 red chilli, finely sliced (with seeds or deseeded depending on spice level)
1/4 jar of Morrisons The Best cranberry sauce
1/4 tsp allspice
50-75ml olive oil, for frying
Method
Preheat oven to 190°c
Wrap the sausages in the bacon in a spiral motion.
Grate the potato and into a clean tea towel to squeeze out all the moisture. Place the potato in a bowl, season to taste, add 1 egg, crumble in the black pudding and mix it through well until all ingredients are incorporated.
Add your sausages to the oven on a baking tray with greaseproof paper to stop the bacon sticking and cook for 20-25 minutes.
In a pan on medium-high heat, add olive oil to cover the bottom of the pan. Shape the potato in your hands into a patty shape and add to the pan carefully. Cook for 3 minutes each side or until evenly golden brown. Then add to the tray with the sausages and cook until the sausages are cooked in the middle, or for 15 minutes.
In a small pan, heat a little olive oil on a medium heat and add the chillis. Cook for 5-8 minutes until the chillies are cooked and tender.
Then leave to one side. Add some boiling hot water and then the cranberry sauce, along with allspice, carefully mix for a few minutes until the sauce becomes loose.
In a frying pan, heat some oil on a medium heat, when you can feel the heat from the oil with your palm over the oil, add the egg and turn off the heat. Cook for 3 minutes.
Remove sausages and rosti from the oven, add to the plate, place the egg on the rosti, spoon over the chilli cranberry sauce over the giant pigs in blanket and enjoy.