Tipsy Prawn Cocktail Recipe
Makes 12 canapés | Time: 50 mins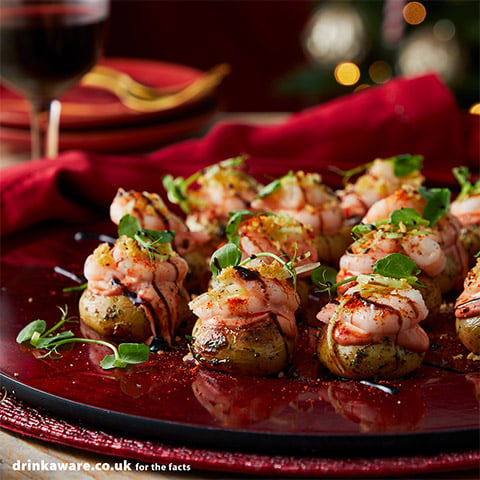 Ingredients
12 small new potatoes
5 tbsp olive oil
For the Bloody Mary sauce:
80ml ketchup
40ml mayonnaise
1 tbsp tomato paste
60ml chilli sauce
3 tsp horseradish
1 tbsp vodka
1 tbsp lemon juice
1 tbsp Worcester sauce
6 drops Tabasco
To finish:
150g cooked & peeled king prawns
1 pack of Worcester sauce crisps, finely crushed
1 celery stick, peeled into thin ribbons (optional to decorate)
Pea shoots (optional to decorate)
Balsamic glaze (optional)
Method
1. Preheat the oven to gas 6, 200°C, fan 180°C. Pierce each potato a couple of times with a fork, pop in a mixing bowl, add olive oil, salt and pepper and stir.
2. Place the potatoes on a baking tray and roast for 40-45 mins.
3. Whilst the potatoes are cooking, combine all of the ingredients for the Bloody Mary sauce plus a pinch of salt and pepper together in a bowl and set aside.
4. Once the potatoes are cooked, remove from the oven. Using the back of a spoon gently push each potato down to create a flat surface.
5. Place a teaspoon of the Bloody Mary sauce on top of each potato, followed by a curled ribbon of celery and a king prawn or two.
6. Sprinkle with your Worcester sauce crumb and garnish with a pea shoot and a little balsamic for the perfect bite-sized tastebud tickler to kick start the festivities.