Turkey Wellington
Thanks to @Food_Obsessed_Girl for this delicious recipe.
Serves 4-6 | Time: 2 hours 15 mins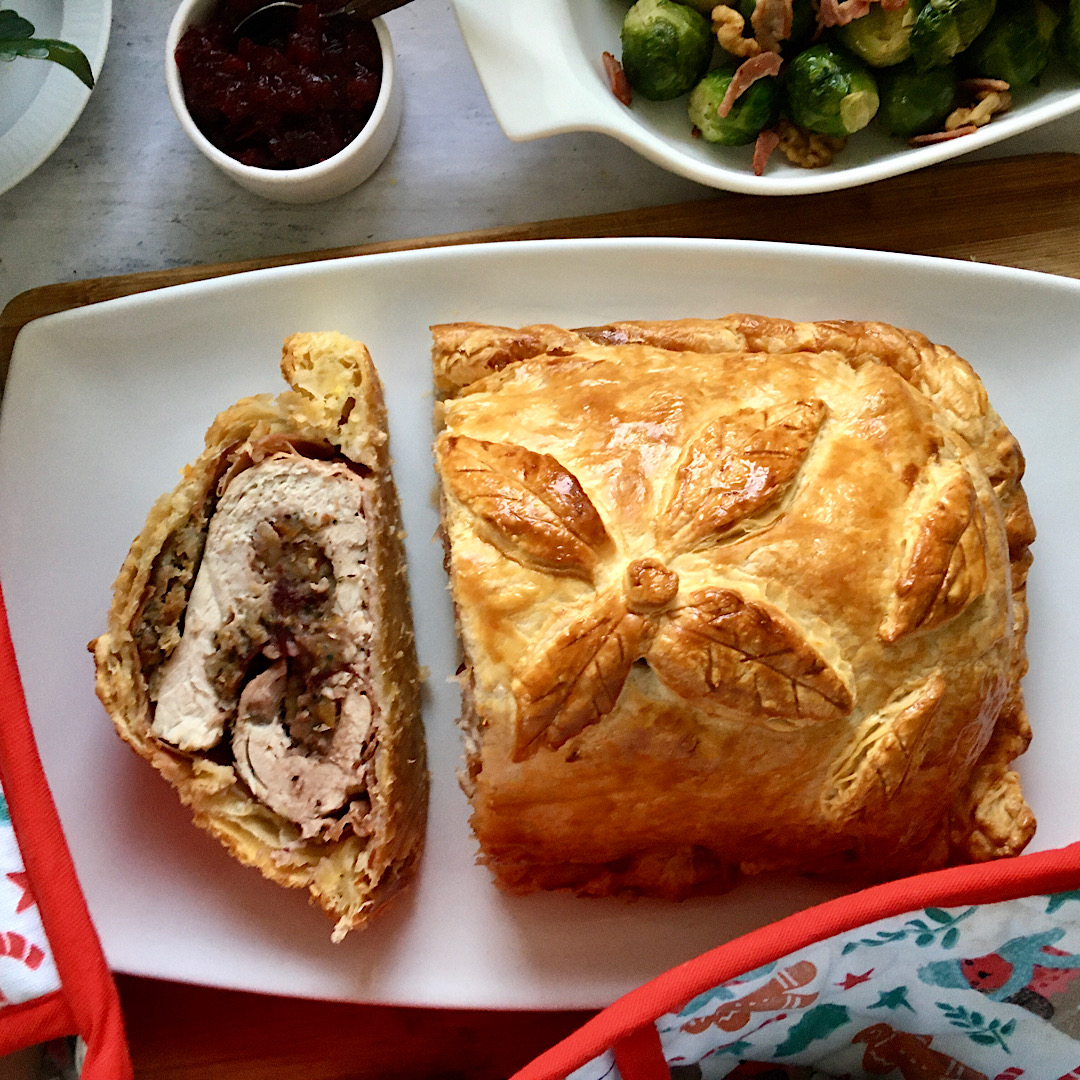 Ingredients
For the filling
1.1kg turkey breast joint
20g softened butter
5 slices Parma ham
2 x 375g packs ready-rolled puff pastry
100g cranberry sauce
1 egg - beaten
For the stuffing
1 medium onion diced
30g butter
1 tsp crushed garlic
3 pork sausages - skins removed
1 tsp thyme
60g walnuts chopped
60g dried apricots chopped
100g white breadcrumbs
Handful freshly chopped parsley
1 large egg
Method
1. Turkey prep - Remove the skin and butterfly the joint, leaving a 3cm deep join. Then run the knife through each side so it can be folded out into a flat sheet. Trim any rough corners or edges, then use a meat hammer to reduce the thickness to around 2cm.
2. Stuffing time - sauté the onion in the butter on a medium heat until soft. Stir in the garlic and sausage meat, breaking it up as you add it to the pan, sauté until the sausage is cooked, then add the thyme, walnuts and apricots and sauté for a few more minutes. Add the mixture to the breadcrumbs and parsley in a mixing bowl and season to taste. When cooled mix in the egg.
3. Rub the butter over the turkey, then cover with a 1cm layer of stuffing, then cranberry sauce, leaving a 3cm edge at both ends. Roll into a swiss roll shape with the join at the top.
4. Roast the roulade at 180*C for 30 mins, then remove from the oven. Turn the heat up to 200 degrees and finish making the roulade.
5. Place the roulade in the centre of one roll of pastry, top with the Parma ham, then lay the other roll of pastry over the top. Seal and trim with a 4cm edge and crimp to secure. Decorate and egg wash, bake for 20 minutes at 220 degrees, then reduce the heat to 180 degrees for 35 minutes, check the centre is hot with a metal skewer before serving.