The Queen of Spoons
Great for the kids to make and a lovely way to honour the Queen on her grandson's wedding day.
1. Use kids' paint to create the Queen's face on a wooden spoon – pink for the cheeks
and red for the lips. It might be easier to dot on the eyes with a felt tip pen.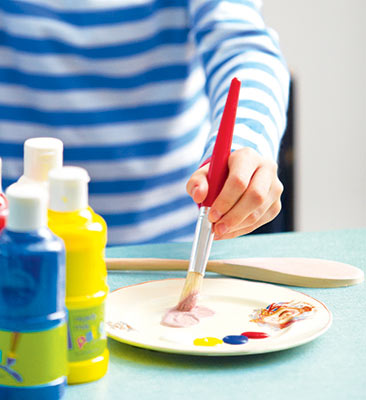 2. Apply glue to the back and sides of the spoon then
stick on cotton wool for the hair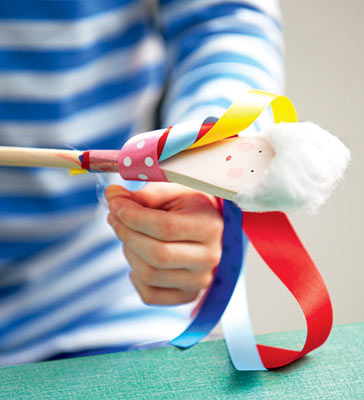 3. Glue together strips of coloured ribbon and tie it
around the neck of the spoon.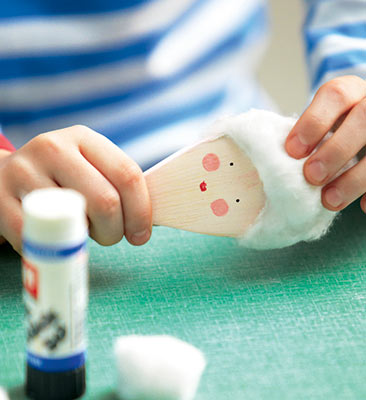 4. Cut out a rectangular piece of red fabric, scrunch it up at the top and wrap it around the neck of the spoon.
Secure with ribbon or an elastic band and stick on top of the spoon to crown the Queen.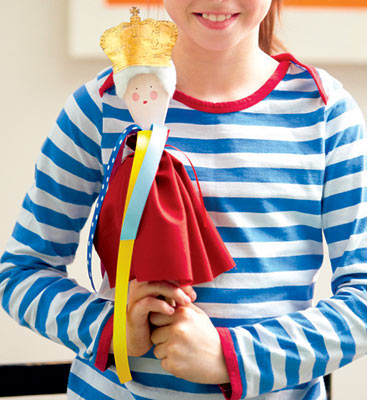 Make sure they are supervised when using scissors and glue.
Picnic crown clips
Paper plates and wooden cutlery are perfect for eating outdoors. Keep them tidy with these handy painted pegs.
Paint wooden pegs in red, white and blue. Leave to dry then write on 'Royal Wedding' with permanent marker pen.
Cut out some crown shapes and colour them in
Stick them on the pegs for decoration. Use your pegs to clip together a plate, napkin, knife and fork.
Easy bunting
Bunting is great for decorating tables, hanging in trees and stringing from house-to-house.
Draw and cut out a large diamond from a piece of A4 paper or card. Use this as a template to cut out diamonds from red, white and blue paper tablecloths.
Alternate the coloured diamonds along a piece of string (this can be as long as you want to make your bunting) then fold the diamonds over the string to form triangles. Glue flat and leave to dry.
Use poster paint to write a message on your bunting, such as 'Happy Wedding Day'. Leave to dry before using to decorate your street.
Chair decorations
These colourful chair sashes are another great way to decorate your street party. They're really easy to make, too.
Cut out 5cm width bands from red, white and blue crepe paper – it's much easier to do this if you keep the paper folded, then unfold it when you've finished cutting the strips.
Tie the strips to the backs of the chairs in a bow.
Cut V-shapes into the ends of the paper strips to create a neat finish.