Dracula Costume (3-10 years) - £12
This costume is fang-tastic if you need a last minute fancy dress idea for the kids. Timeless and complete with a scary face mask to finish off the look, it's available for £12 in stores.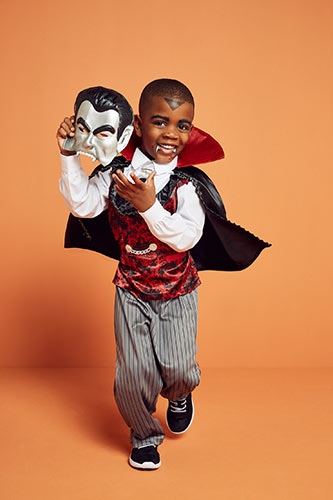 Gothic Bride Costume £12
This costume marries a spooky combination of wedding day white and ice cold blue to create a last minute costume that's ready to go for £12 in store.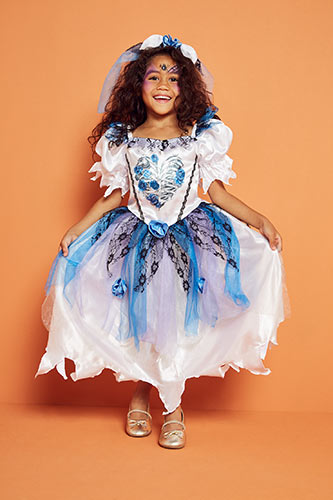 Visit your nearest store for more last minute Halloween costume ideas >>
Rainbow Witch Costume (2-8 years) - £8
As if by magic, here's a wonderful Rainbow Witch costume to get you out of a fix. With a colourful spider's web design and a hocus-pocus hat to wear on the big night, your young spell-caster will be hot to trot for only £8.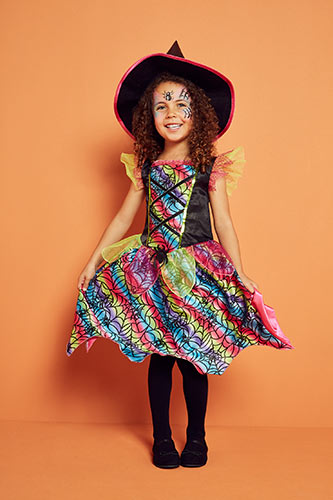 Swamp Zombie Costume (5-12 years) - £12
If the undead have fashion shows, Swamp Zombie costume would be right at the front of the cat-walk. Slimy greens and a shredded design make this a jumpsuit that's sure to make you jump for just £12.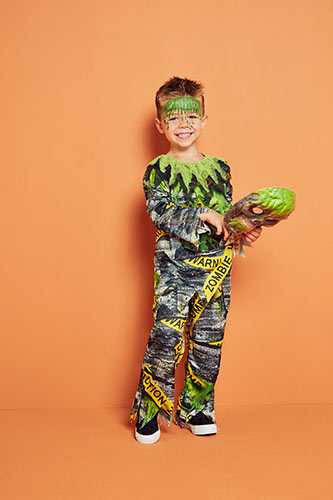 Did you know...
The whole 'dressing up for Halloween' thing started back in ancient times, at the pagan Celtic festival of Samhain, when people danced around in costumes to scare away ghosts and evil spirits. Nowadays we dress up as the actual ghosts - as well as other spooky characters - for our 31st October parties and activities, though it's more about fun than frightening. The modern-day tradition of wearing fun costumes on Halloween is said to have started in Ireland and Scotland, where it's known as 'guising'.
Browse our Halloween Party Ideas for tasty treats and scary snacks >>
Glow-in-the-dark Unisex Skeleton Costume (1-6 years) - £8
If you're scratching your skull wondering what to dress the kids up in this Halloween, this glow-in-the-dark skeleton suit is a real party piece. They're lurking in the shadows of our seasonl aisle for just £8.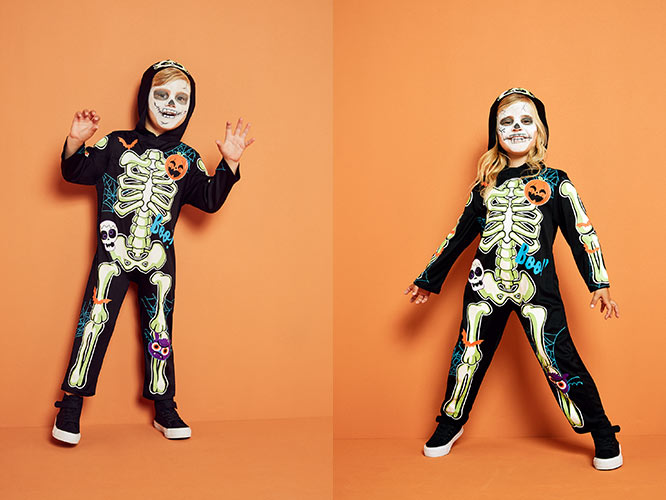 Mortifying Make-up
Add a spoonful of white flour to your white face paint mix, to make the face paint thicker and less transparent, also making it last longer without rubbing off.
Family Frighteners By Nutmeg
The whole family can go Trick Or Treating as the Boo Crew in these jumpy Nutmeg jumpers. After Halloween, they're also great for adding more 'spook' to games of hide and seek in the dark at home.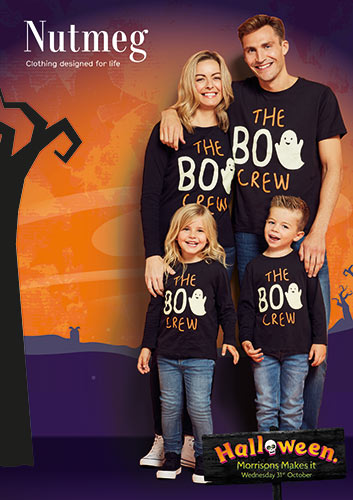 Creep over to our Halloween range for more dress-up and decorating accessories >>